PMHS softball is adding another name to the record books - Sr. Paige Wilson collects her 100th career hit today (and did it without a sophomore season due to Covid shutdown). WOW!! #GoEagles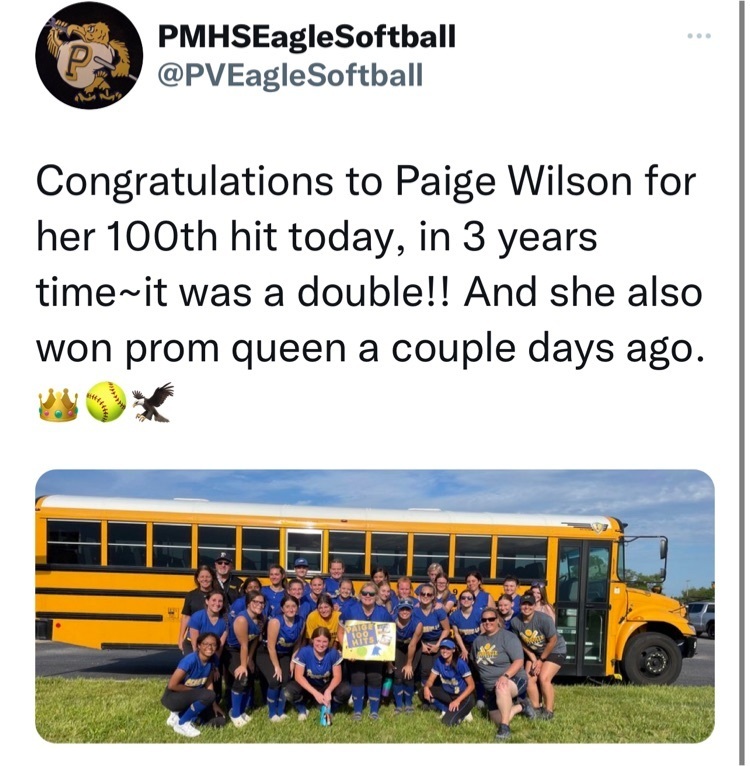 PMHS Athletic and Student Activities for the week of 5/23. #GoEagles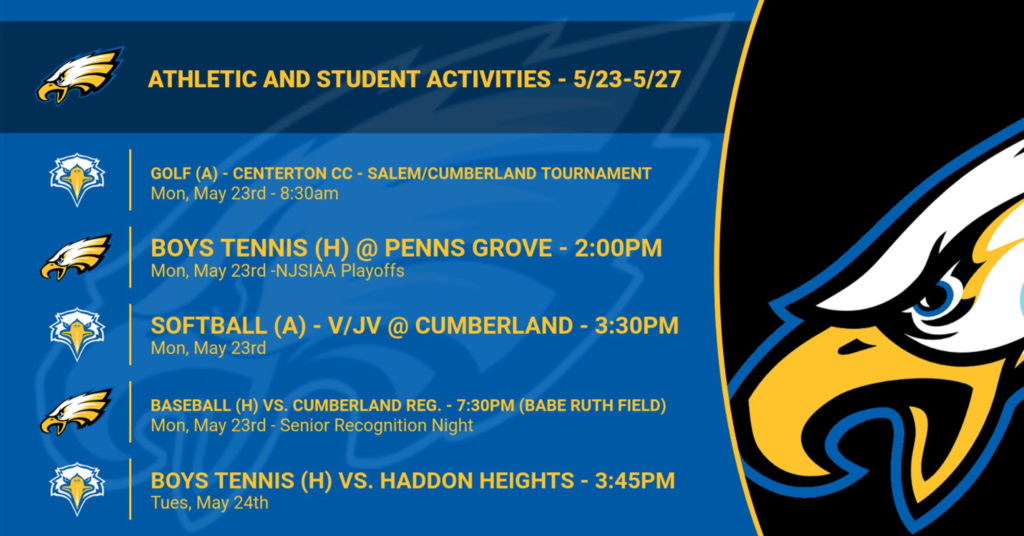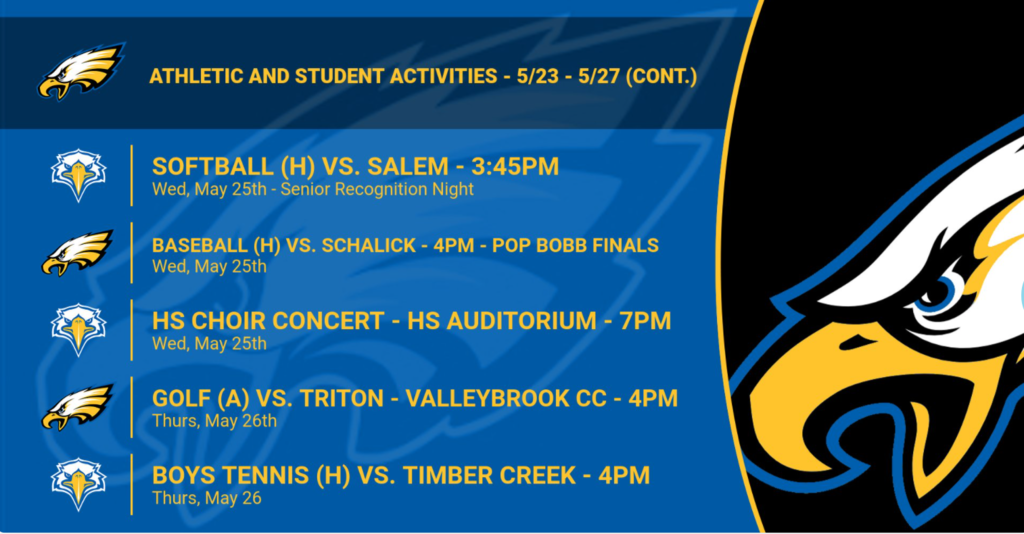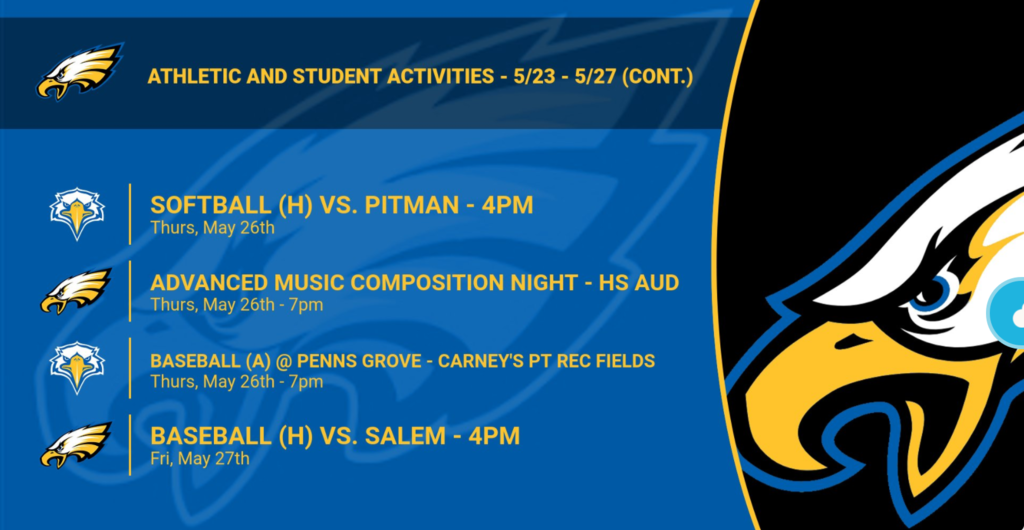 Good Luck PMHS Golf Team!!! #GoEagles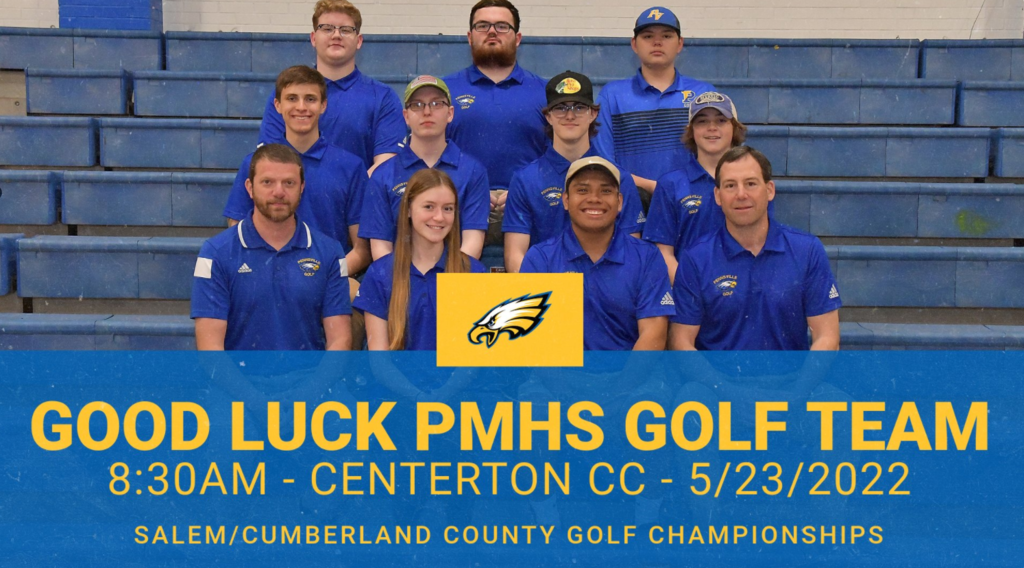 Check your email or the image for info on PMHS End of Year Events including Graduation & Graduation Rain Date.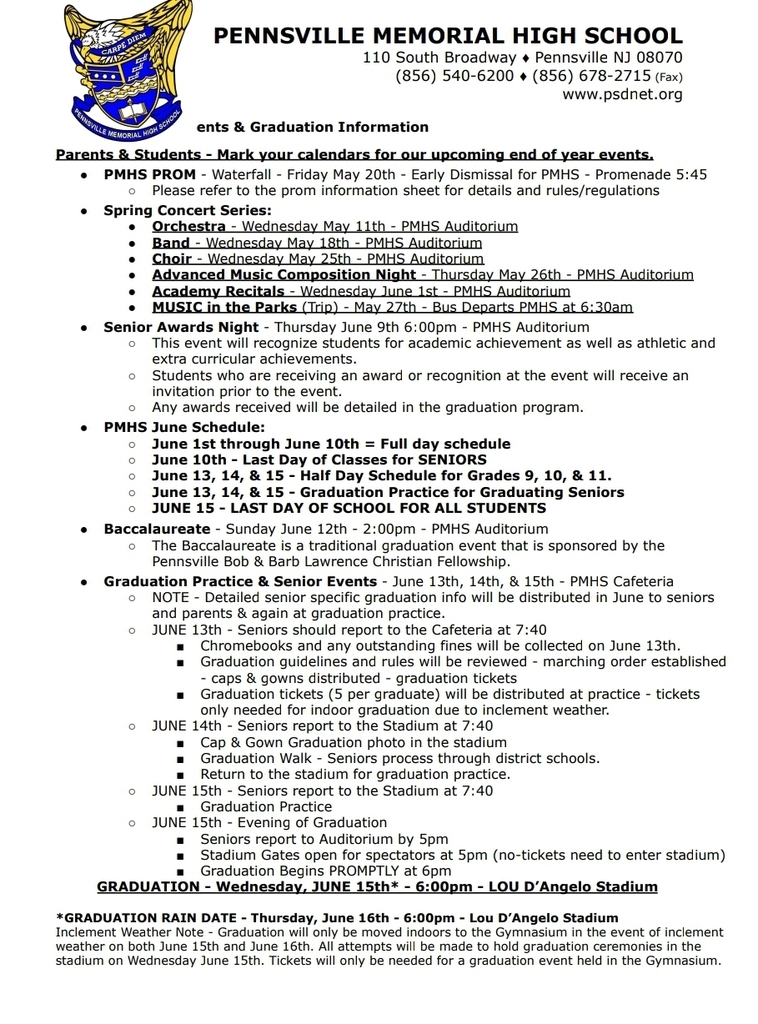 Congratulations Students of the Month, Callie & Michael!

All Athletic events, practices, clubs and co-curricular activities in the Pennsville School District are cancelled for to today (5/16) after school due to the impending weather reports. Reschedule information for athletics can be found at
www.tricountyconferencenj.org
.

PMHS Athletic and Student Activities for the week of May 16th. We have a lot of activities going on this week, and it is prom week 2022!! Be sure to follow changes and cancellations at
www.tricountyconferencenj.org
. #GoEagles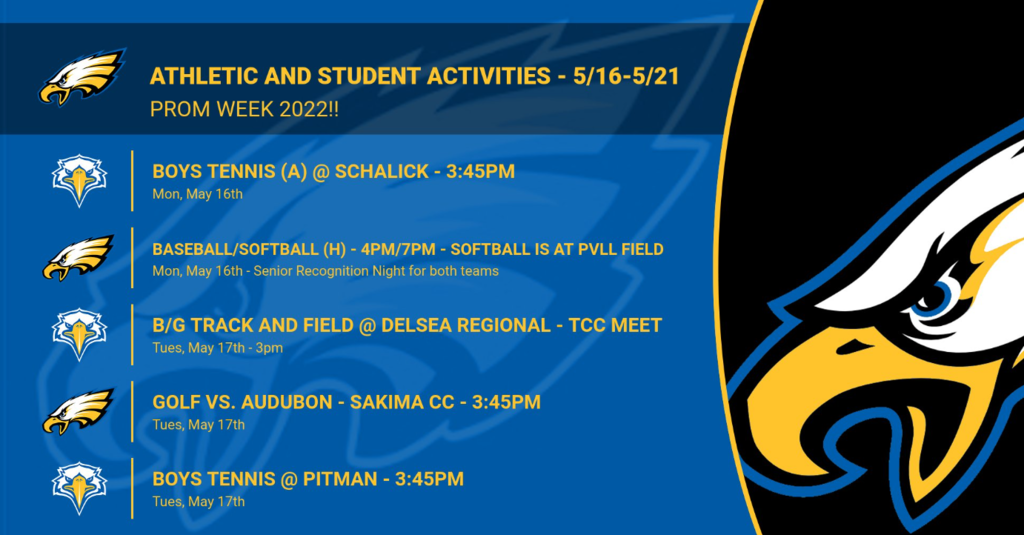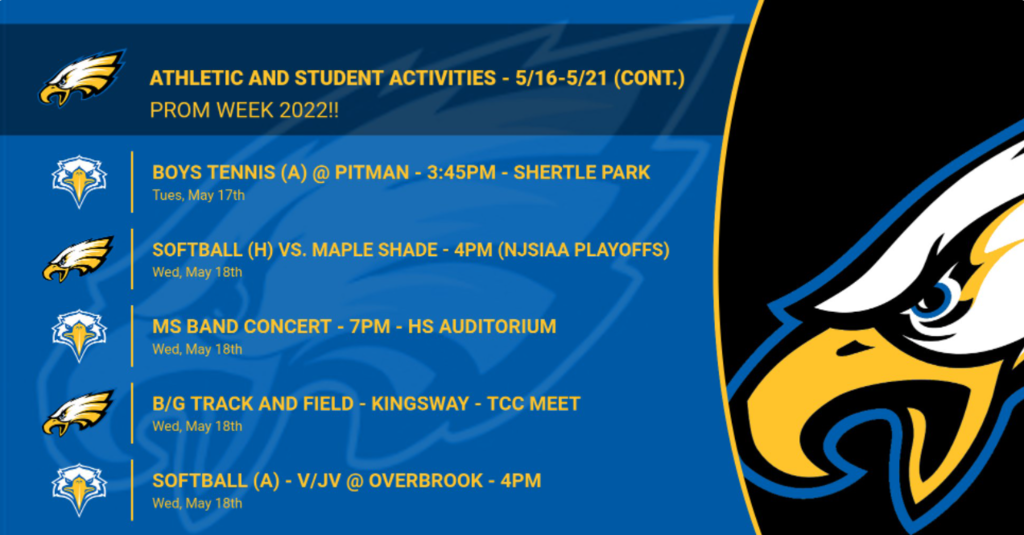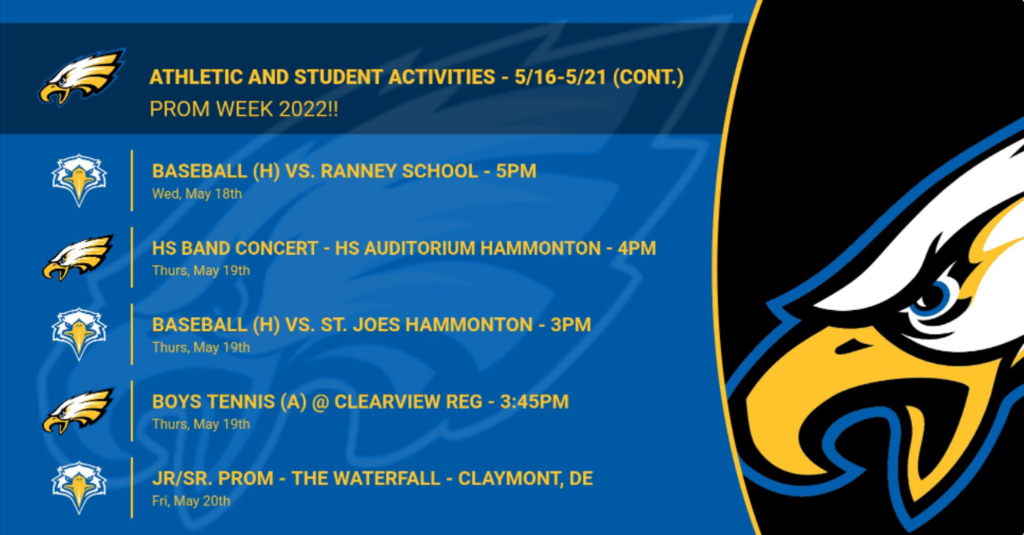 Spirit Week May 16-May 20

PMHS Athletic Events for the week of May 9th. #GoEagles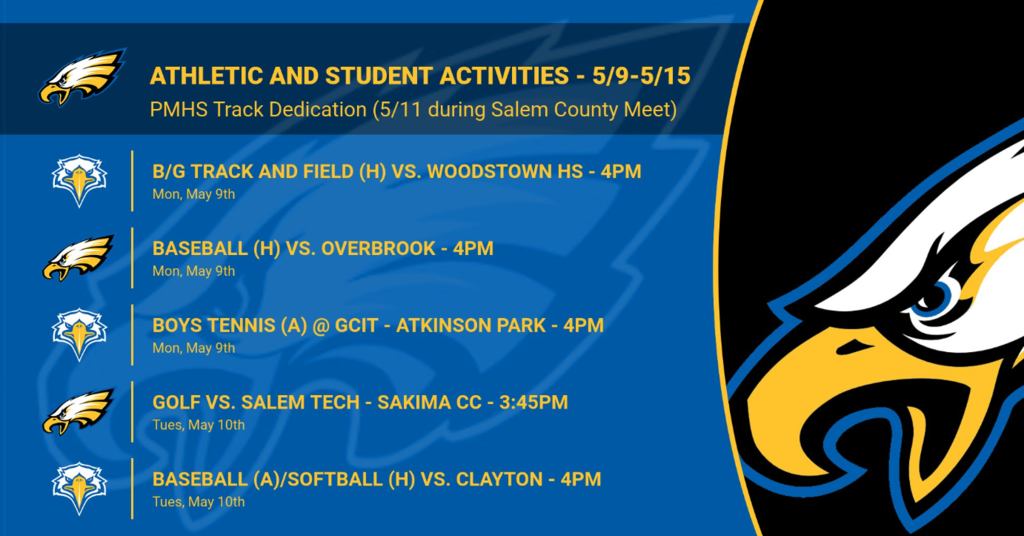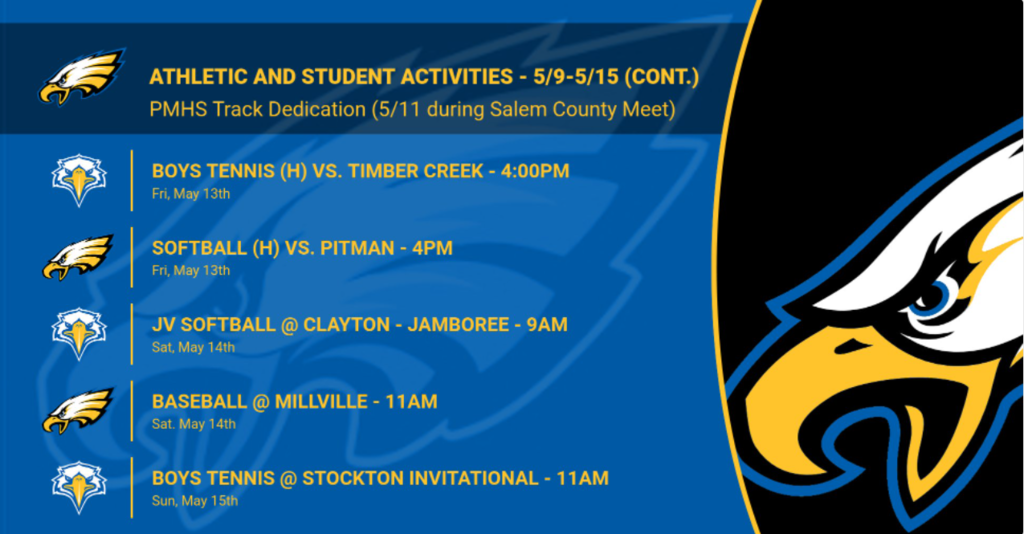 Tonight's (May 6th) Mom and Son Game Night Carnival, sponsored by PMHS Class of 2025, will now take place in the Pennsville Middle School Cafeteria from 6-9pm. Tickets will still be sold at the door. A great way to kick off Mother Day's weekend!!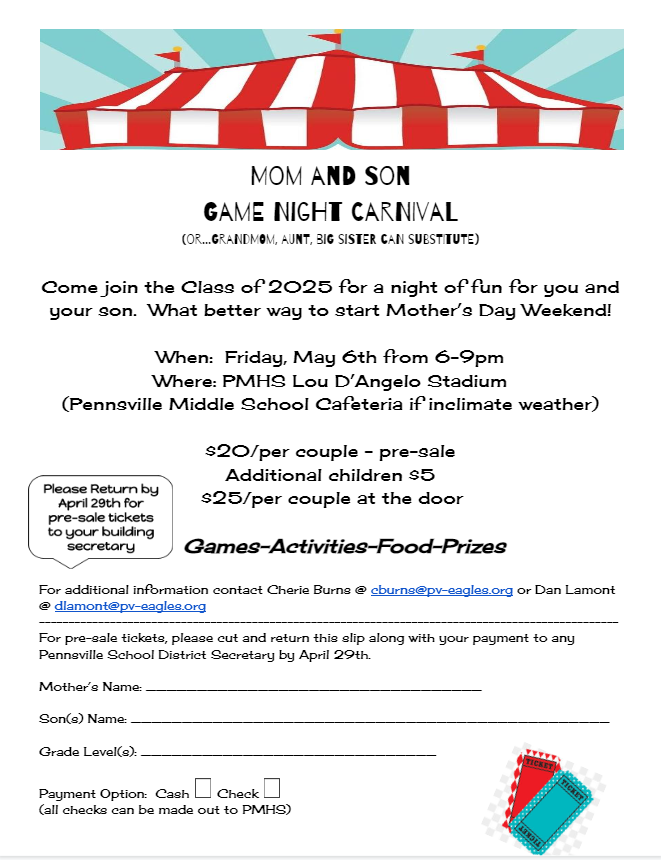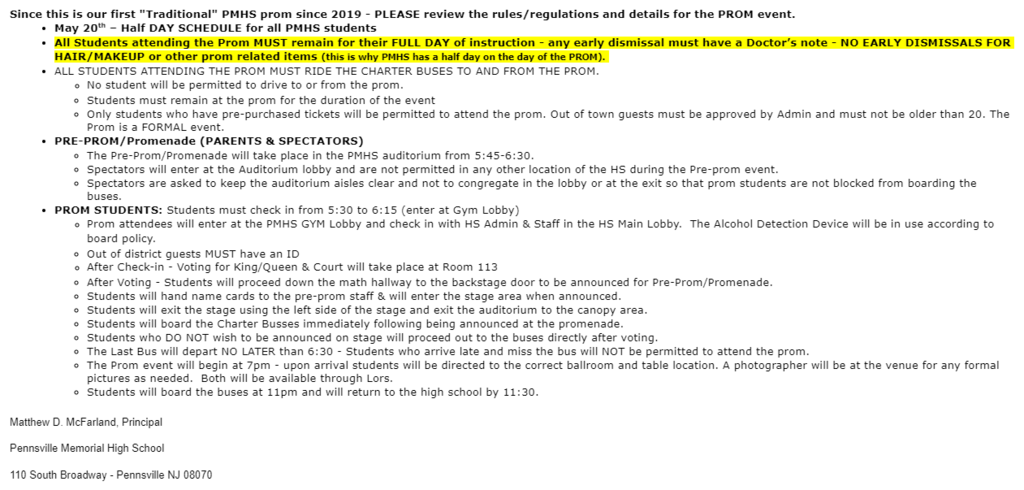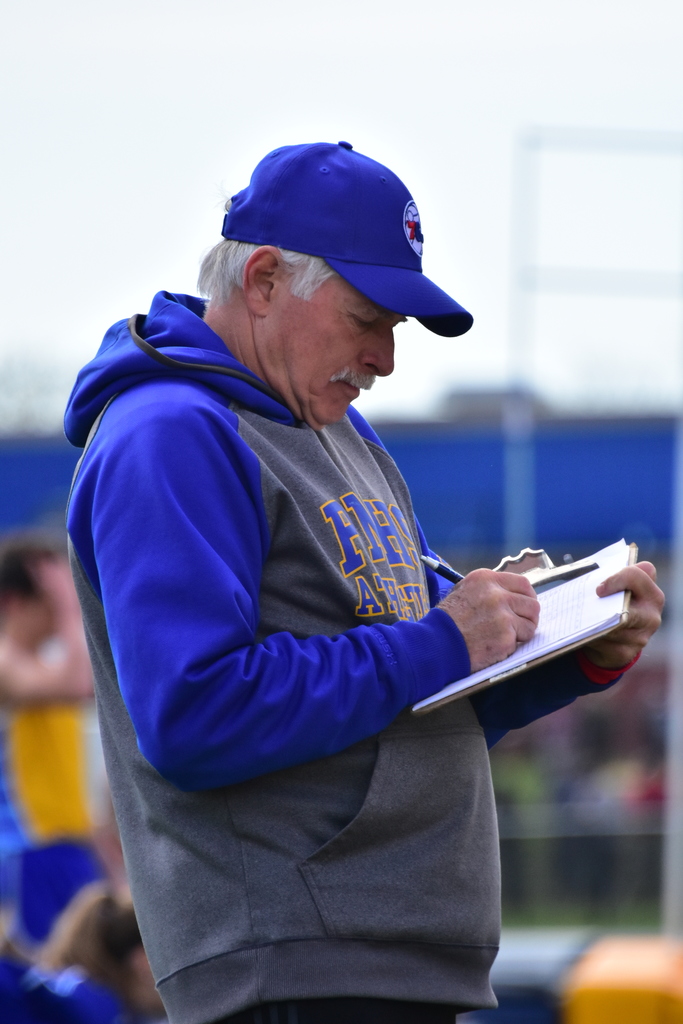 PMHS Athletic events for the week of May 2nd. #GoEagles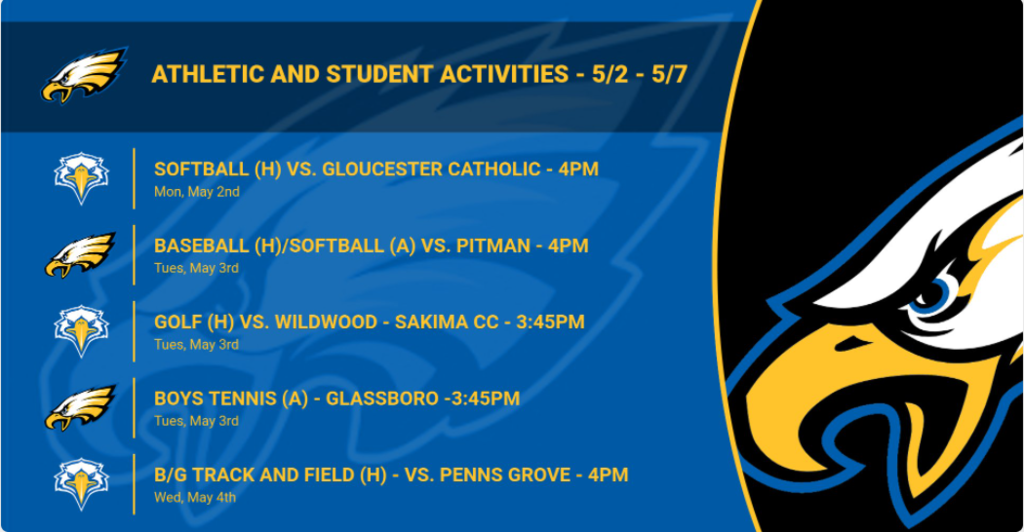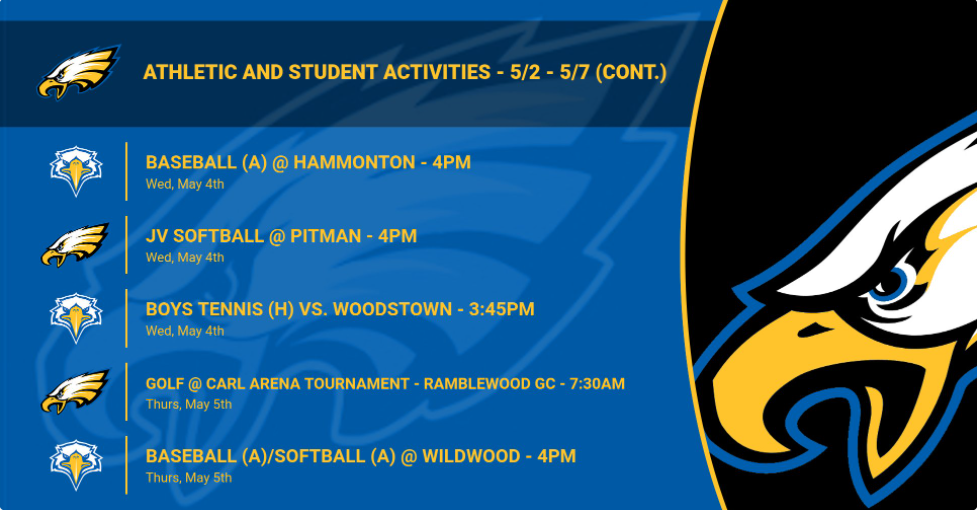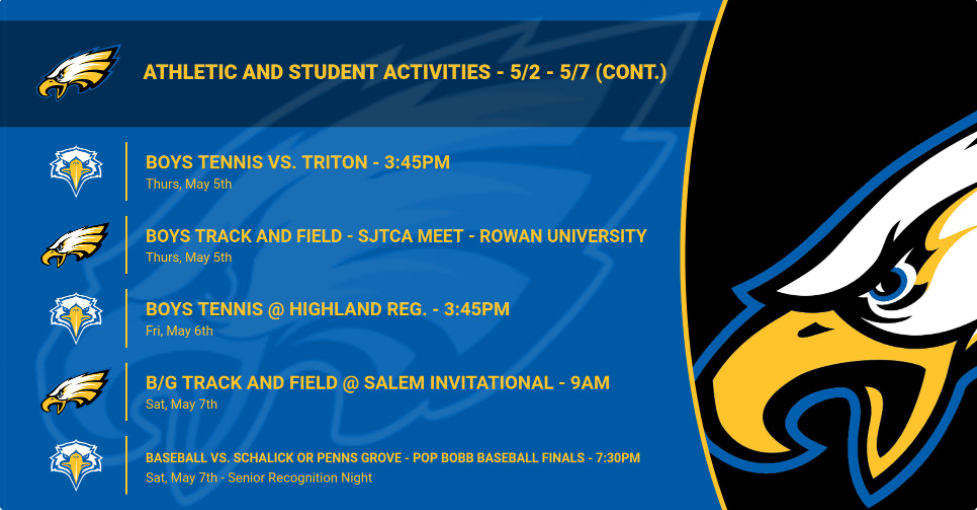 Seniors - be sure to stop in & pick up the application for the PFC Dalton Beals "Better than the Best" Memorial Scholarship applications. Thank you so much to the Beals Family for setting up this scholarship that will help seniors w/ continuing their education in Dalton's name.

Congratulations to our PMHS Renaissance Student and Staff Spotlight Winners for the month of April! Thank you for all your hard work and school spirit! 9th Grade: Hope Hoper 10th Grade: Jackson Leino 11th Grade: Mackenzie Tanyer 12th Grade: Collin Gilbert Staff Winner: Don Palmucci

Congratulations Students of the Month, Jacob and Dylan!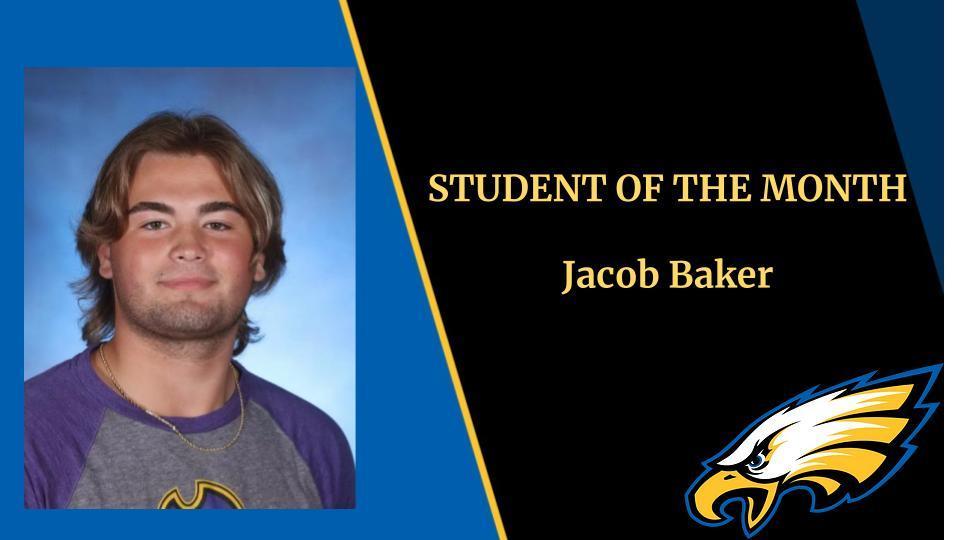 Congrats to our March and April PEPAA Scholar-Athletes of the Month - Faith Penn and Zackary Haines (March), and Emma Warwanichik and Michael Saulin (April). #GoEagles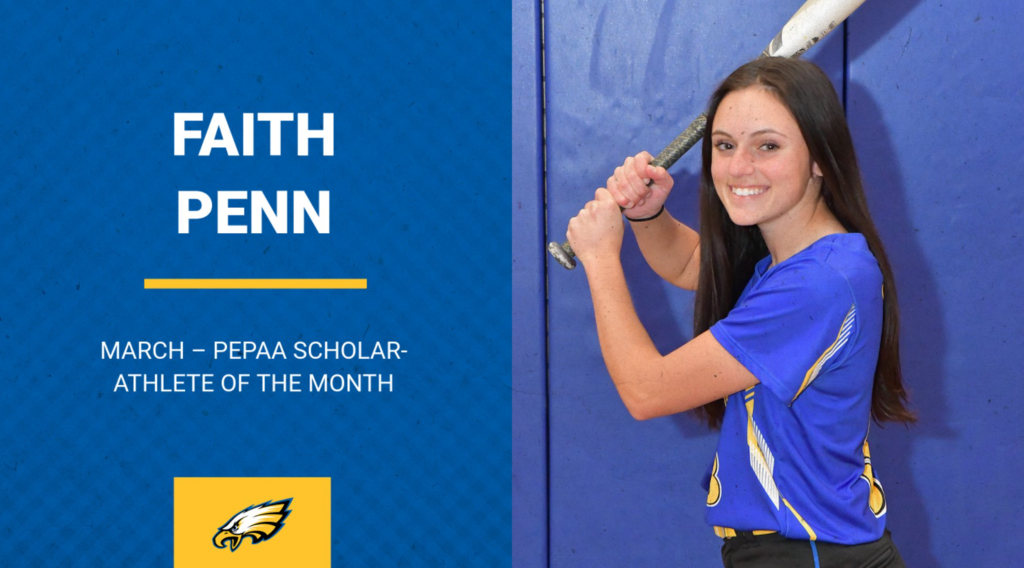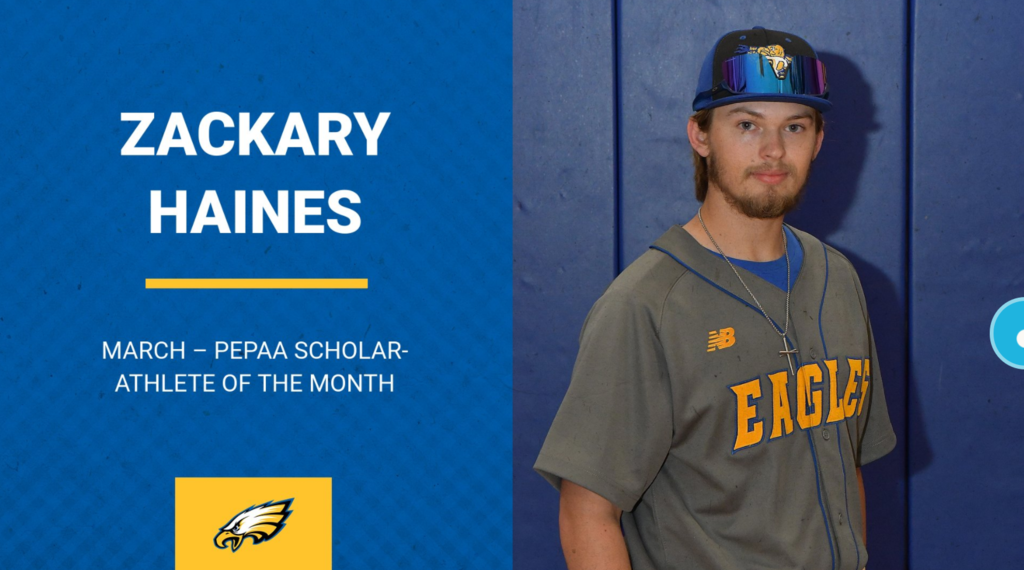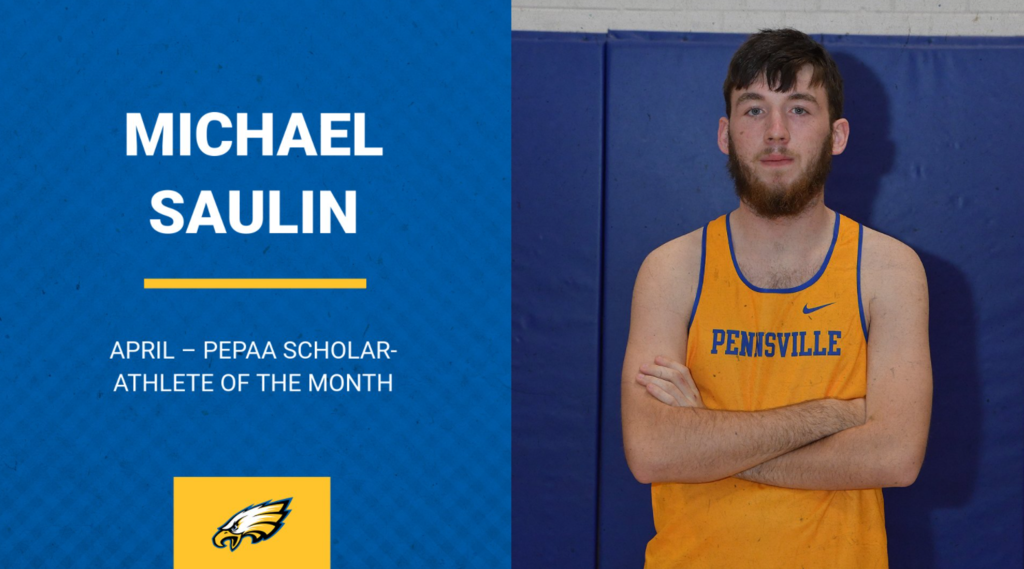 PMHS Athletic Events for the week of April 25th. Senior Class trip week. #GoEagles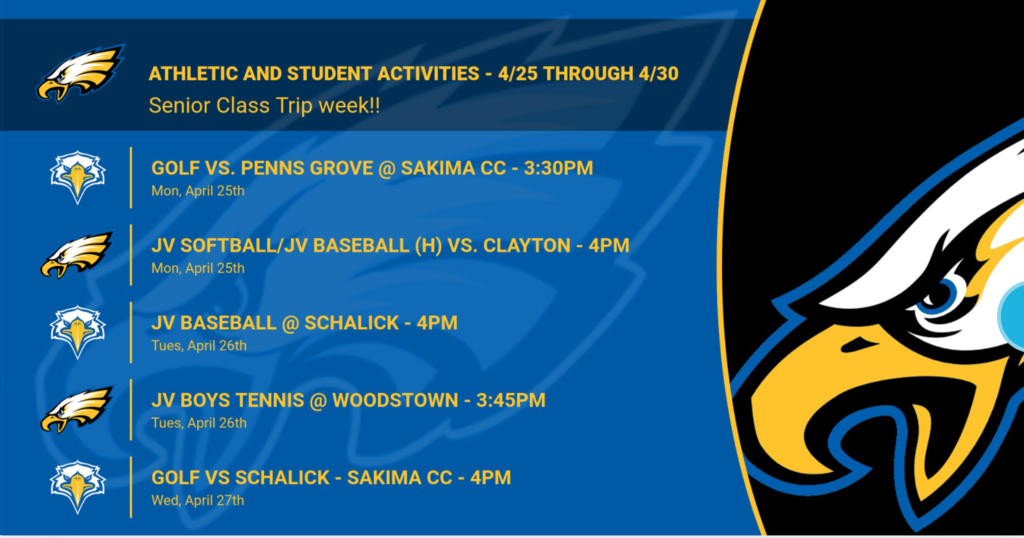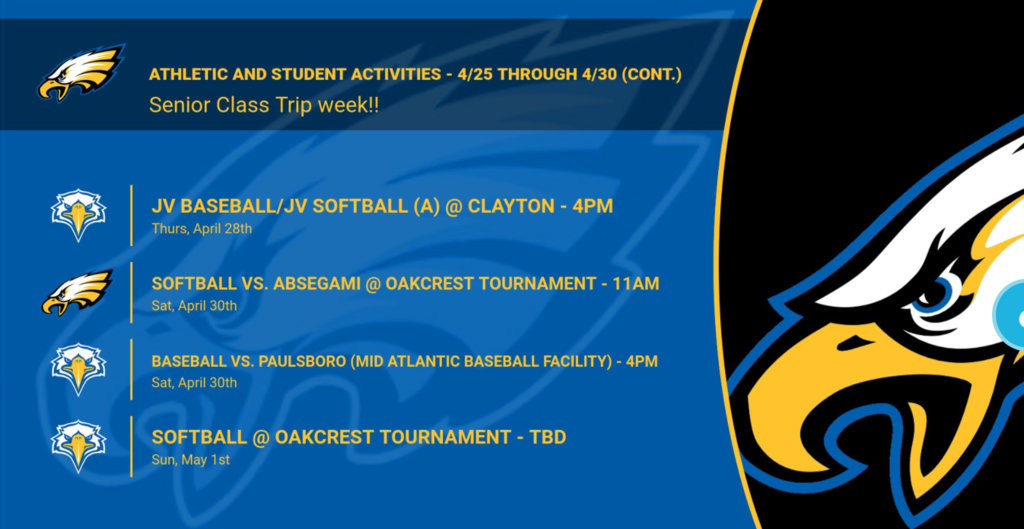 We are currently aware of a technical issue when attempting to order Varsity Jackets through Jostens. We have been in contact with our reps and this is a nationwide issue. As soon as they have it corrected - we will follow up with more information. Sorry for the delay.