Good morning PMHS Parents & Students: Operation Back to Basics Reminder-Attendance Be on Time and Be Present and Be Ready to Learn 10 unexcused absences equals truancy court 14 unexcused absences, credit completion will accrue, even with passing grade 20 unexcused lateness equals truancy court Please remember to call out your child if they are sick and bring in doctor's notes. Thank you.

Congratulations Junior Rotarians of the Month, Kaylin Jaeger, Melissa Maldonado, and Erica Warner!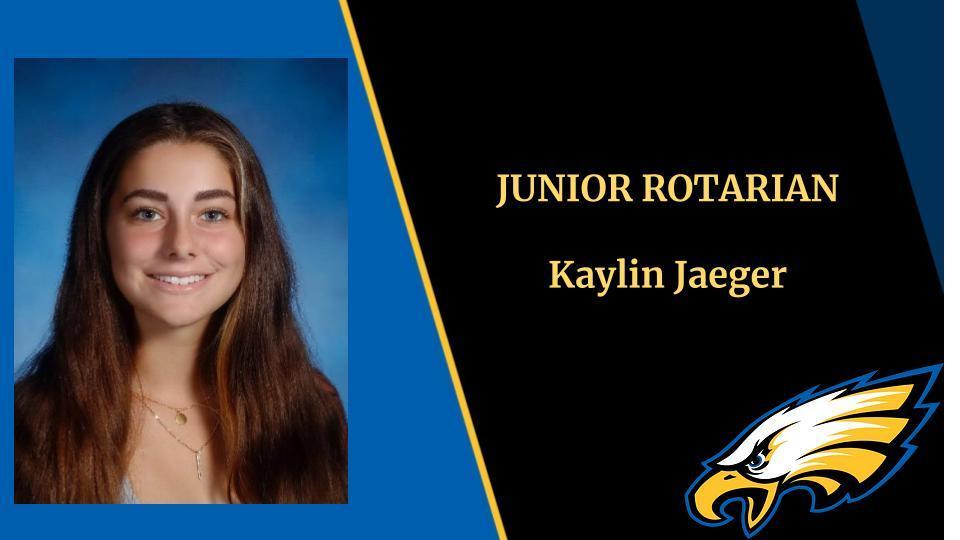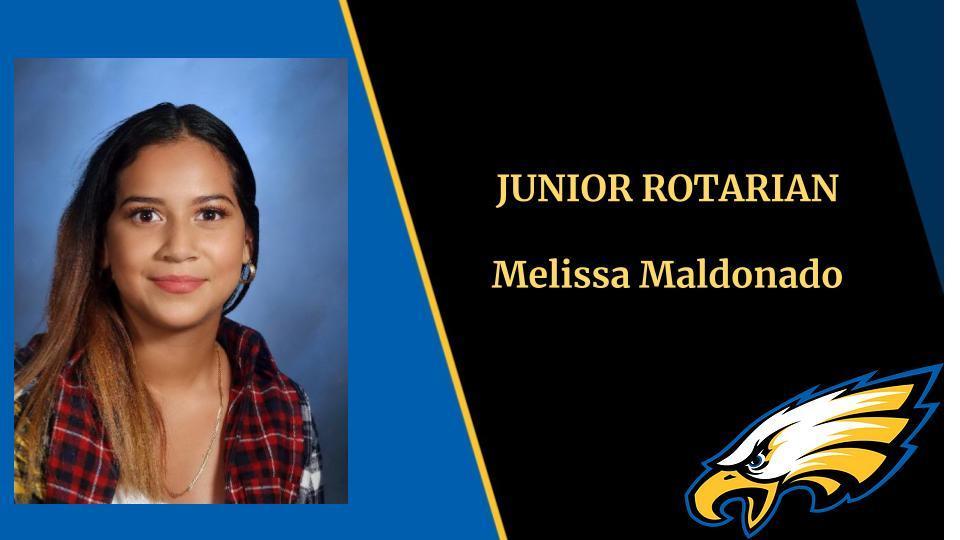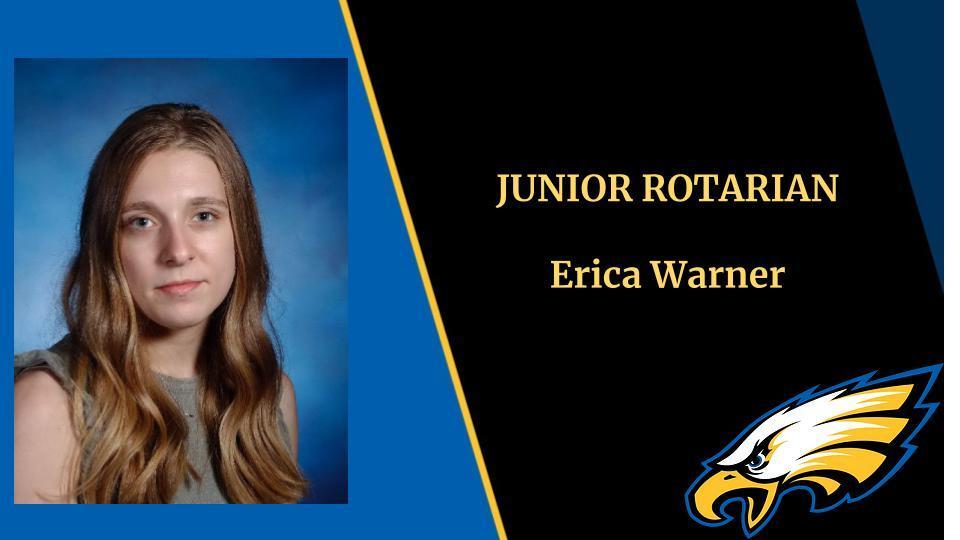 Congratulations Students of the Month, Ahmet Karaburk and Trinity Peacock!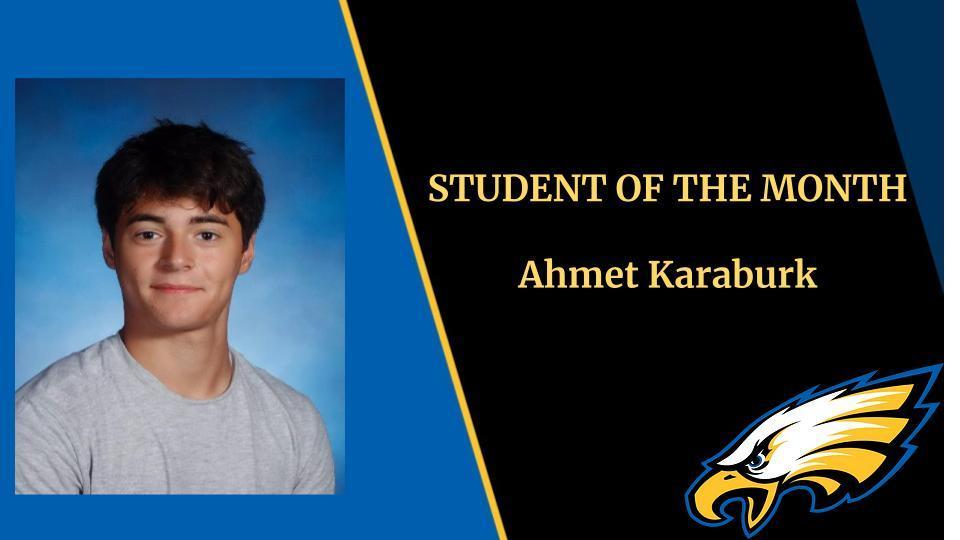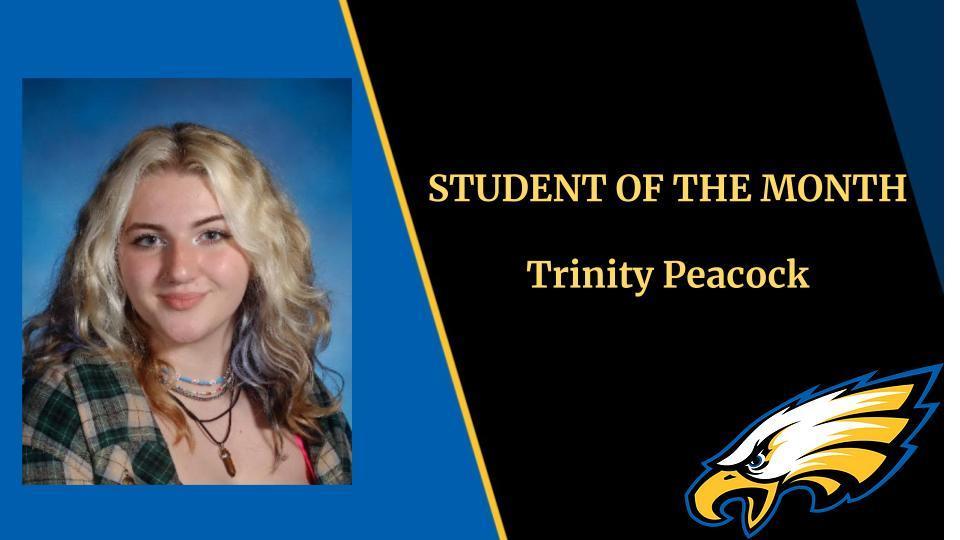 Thank you Kelsey Coan for stopping in today to speak with our Music Academy Students about your path in the music profession. The use of performances to help narrate your story was inspiring.

PMHS Marching band members showing off at Penn Beach Elementary School to this years 5th graders. Looking forward to seeing many of these students in our band very soon. #GoEagles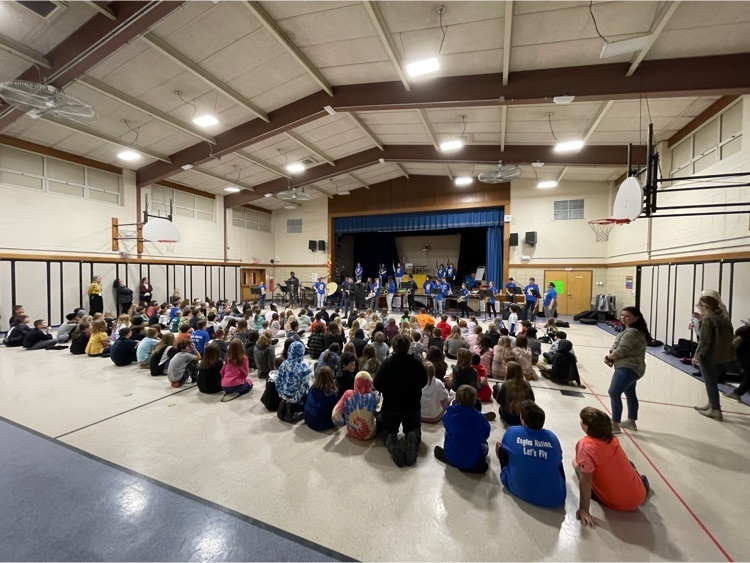 The National Honor Society will be hosting our Annual Powder Puff game this evening at Lou D'Angelo Stadium starting at 6pm. Admission is $5 at the gate and all proceeds go towards senior scholarships. #GoEagles

Congrats to our 2022 Boys Soccer TCC Allstars @PMHS_BoysSoccer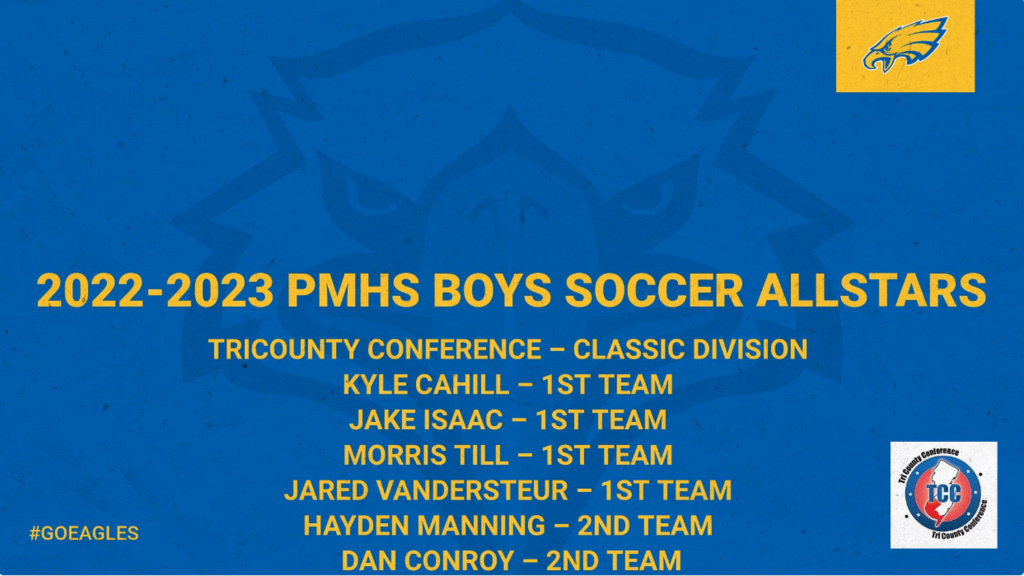 Are you considering playing a Winter Sport? Have some free time the next 5 days w/ schools closed? Get your registration complete & physical done this weekend!! Winter sports start on Mon, Nov. 28th. Participation depends on completed registration & an approved physical.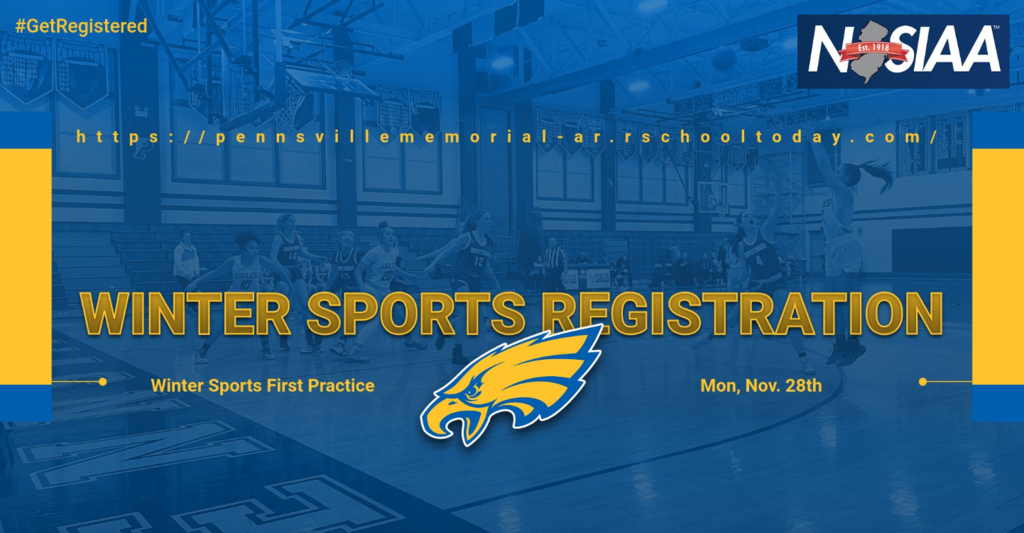 Congrats to our PMHS Football and PMHS Boys & Girls Cross Country 2022 Fall Allstars from the WJFL and TCC, repectively. @PMHS_FOOTBALLNJ @PMHS_TnF_XC allstars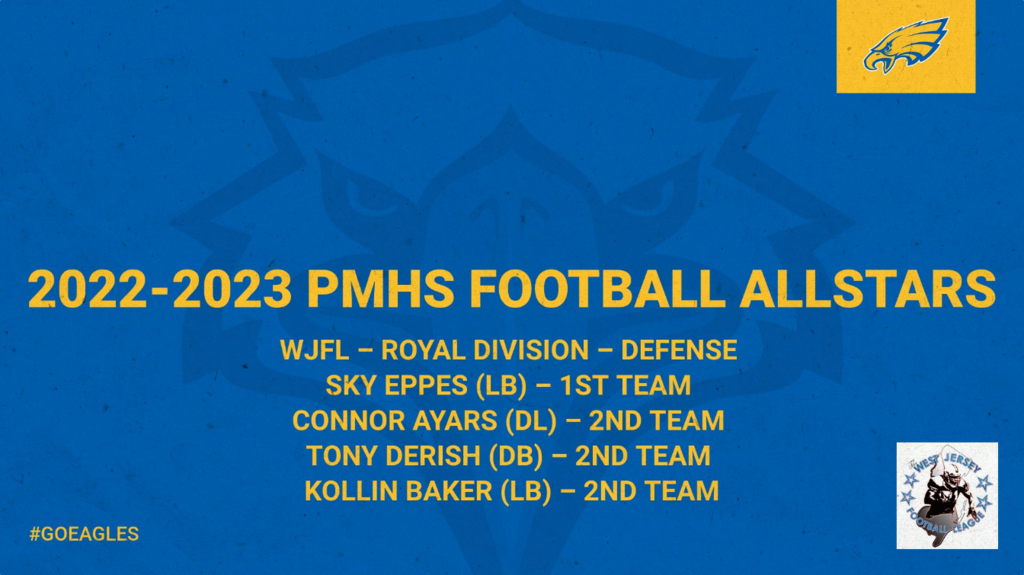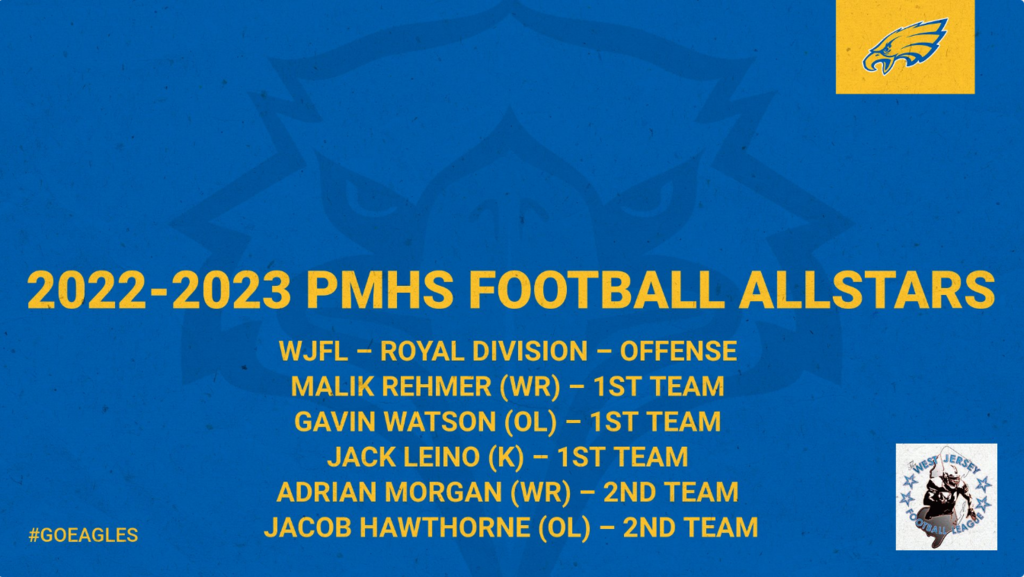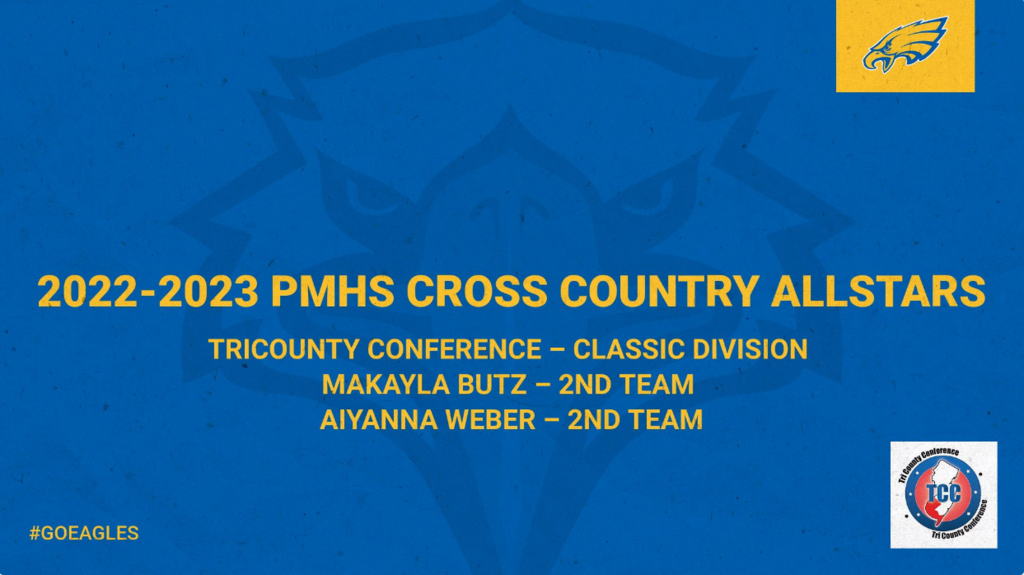 Awesome weekend for PMHS athletics as we had three PMHS legends inducted into Hall of Fames this weekend. John Doran (SJ Wrestling HOF), Dan LaMont & Donna Martin-Duber (SJ Tennis HOF). #TraditionNeverGraduates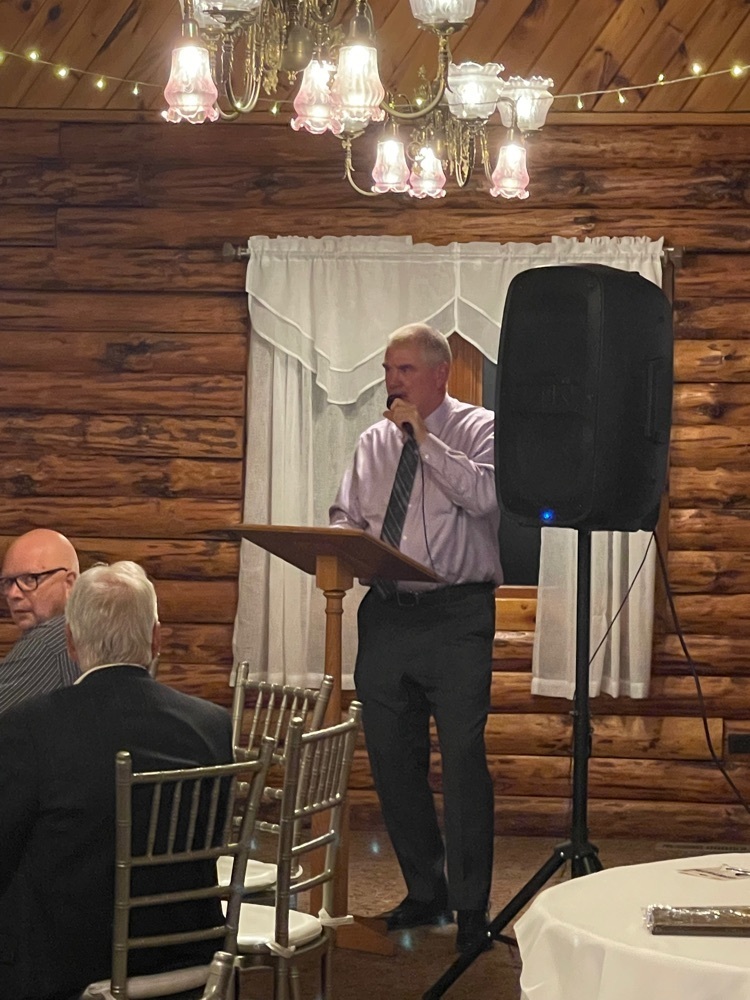 Congrats to our Girls Soccer and Field Hockey Allstars from the TriCounty Conference. @girlssoccer_pv @PMHSfieldhockey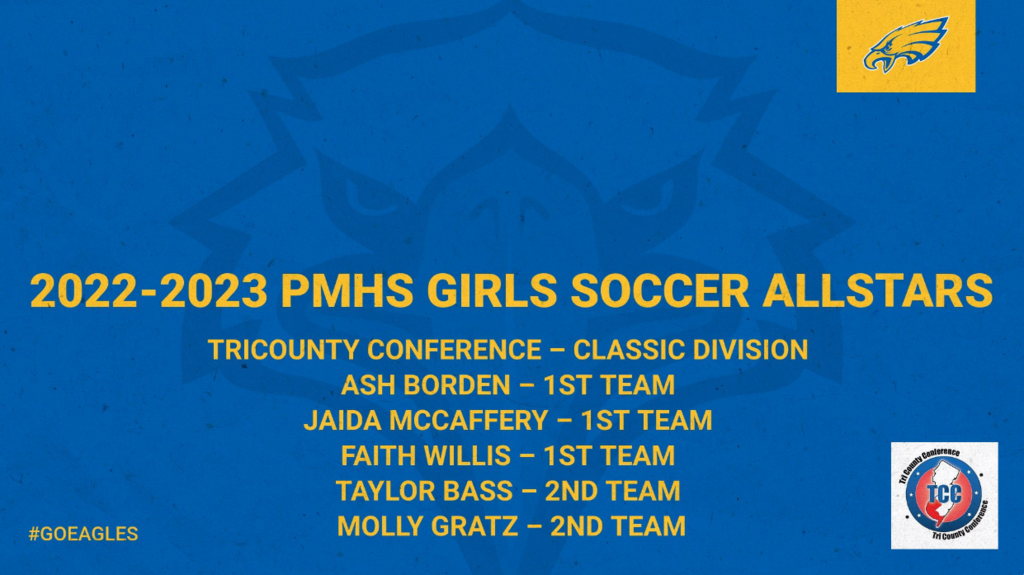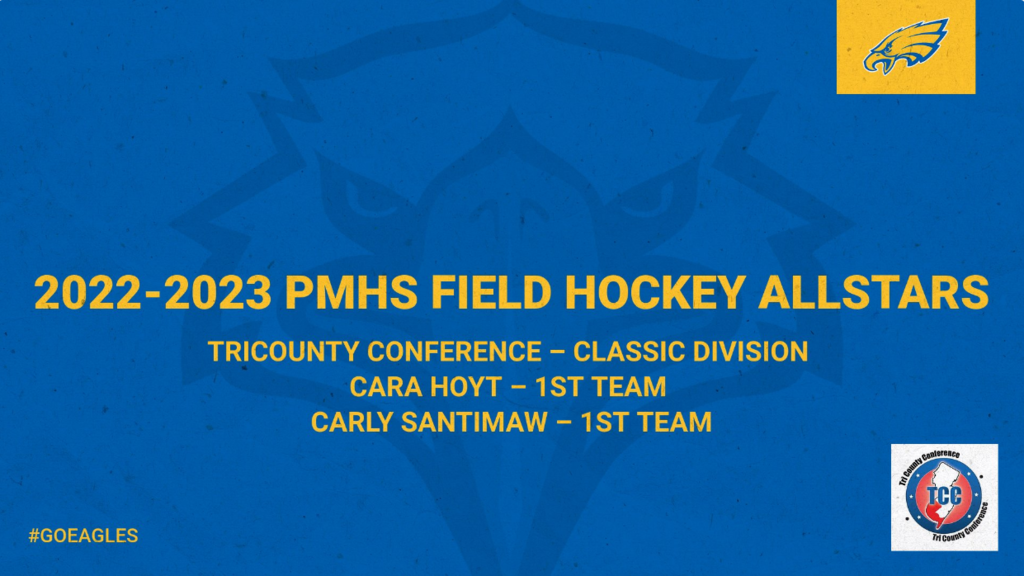 As we hit the end of the Fall Season we will be recognizing all of our Fall TriCounty Conference Allstars from each team. They will be publicized following each of our team's End of Season Awards Night. Our first announced team is Girls Tennis - Congrats to our TCC Allstars!!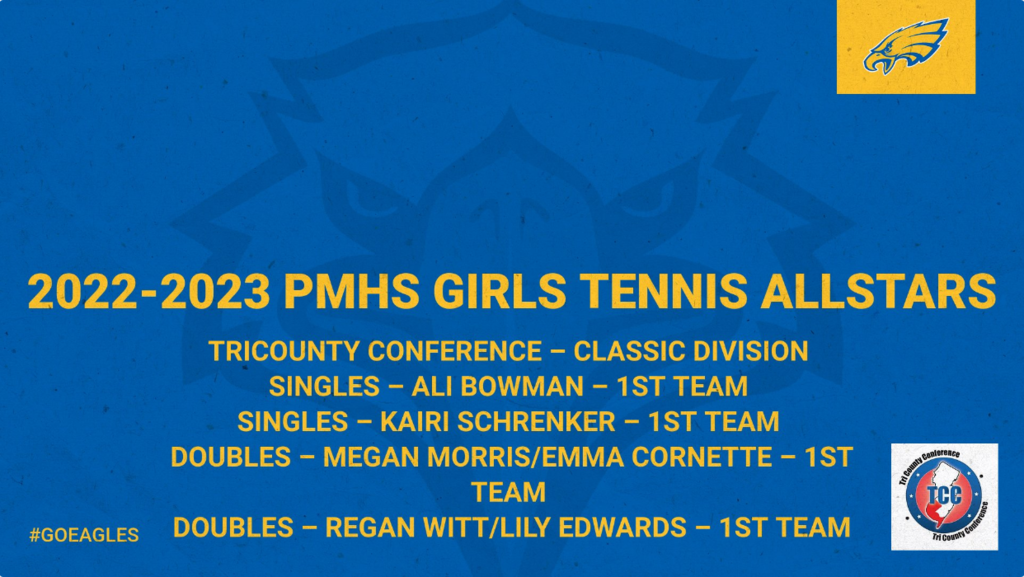 Order your PMHS Varsity Letter Jackets today!! Check out the video and link on ordering instructions. Our Jostens Rep will be available for a quick jacket fitting during lunches on Friday, Nov. 4th.
https://bit.ly/3Ujg0N7
Good afternoon! Undergraduate Make-Up Photos will take place on November 18th in the PMHS auditorium. The photographer will be there from 7:45am to 2:30pm. You may place an order online at
www.lorsstudio.com
and enter code 23-26PH. Should you have any questions, please contact Lors Photography at 1-908-964-0847.

Congratulations to the Students and Staff Member for winning the PMHS Renaissance Spotlight Award for the month of October! 9th grade: Molly Gratz 10th grade: Marlee Lawson 11th grade: Isabella Farina 12th grade: Adam Whipkey Staff: Julie Carpenter

Congrats to our September PEPAA Scholar-Athletes of the Month - Jaida McCaffery and Kyle Cahill, as well as our October PEPAA Scholar-Athletes of the Month - Ali Bowman and Gavin Watson. #GoEagles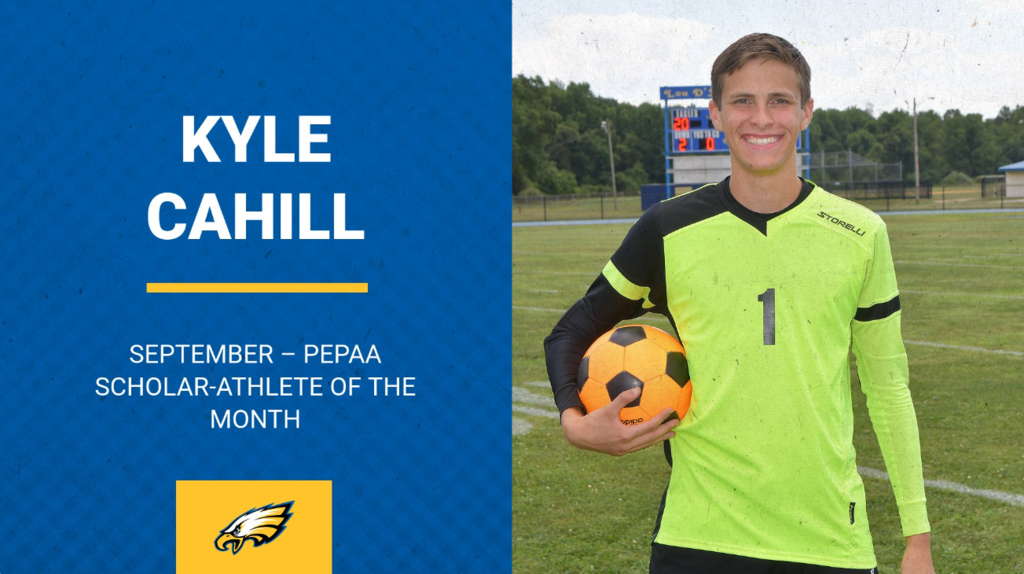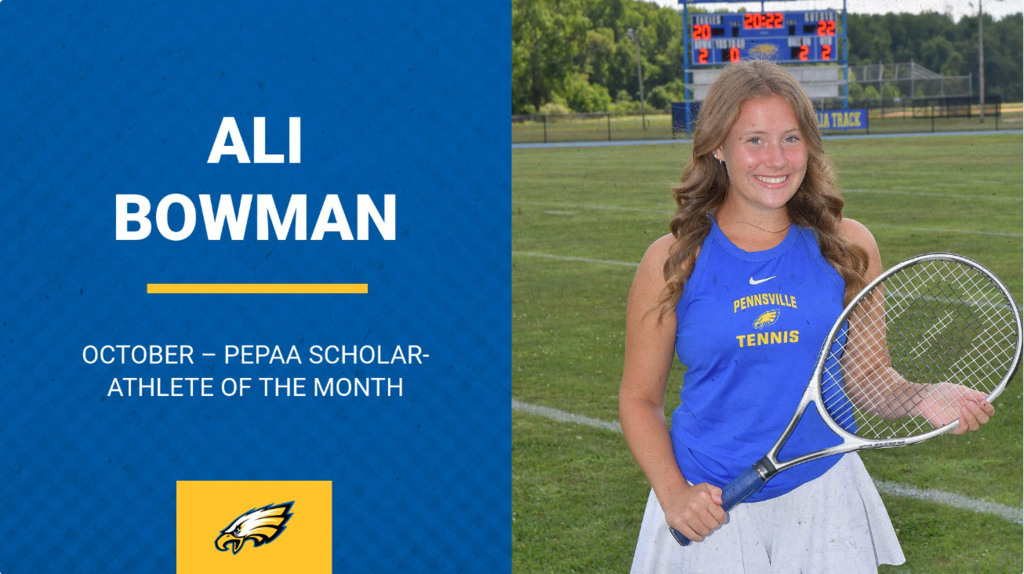 Operation Back to Basics: Attendance Reminders -School Attendance is CRITICAL! Be on TIME & BE PRESENT! -Excessive Tardiness and Unexcused Absences will result in credit completion and/or truancy charges.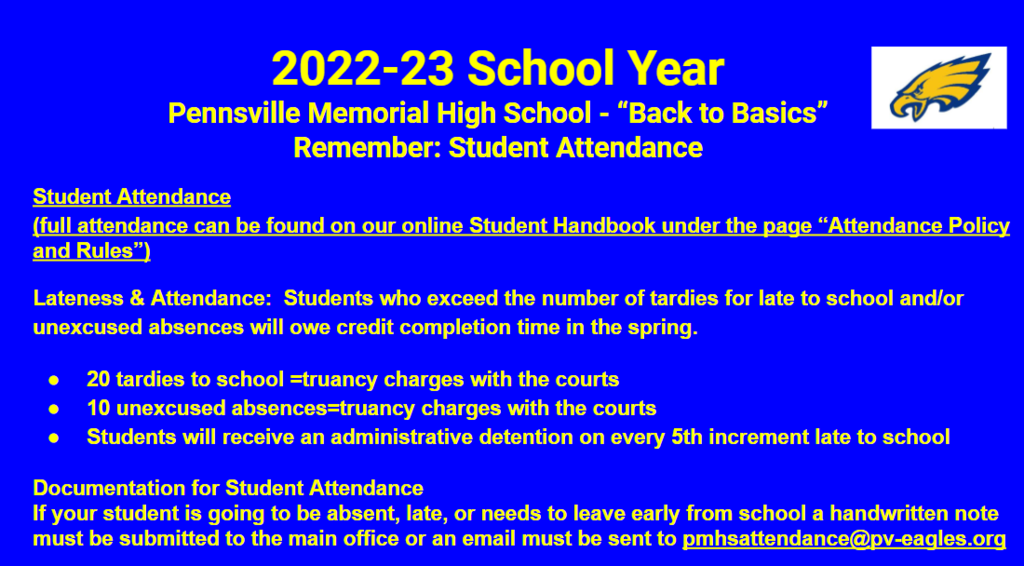 Athletic and Student Activity Events for the week of 10/24. Lots of playoff action starting this week. Still some question marks in the exact schedule this week - so be sure to check
www.tricountyconferencenj.org
for all schedule updates. #GoEagles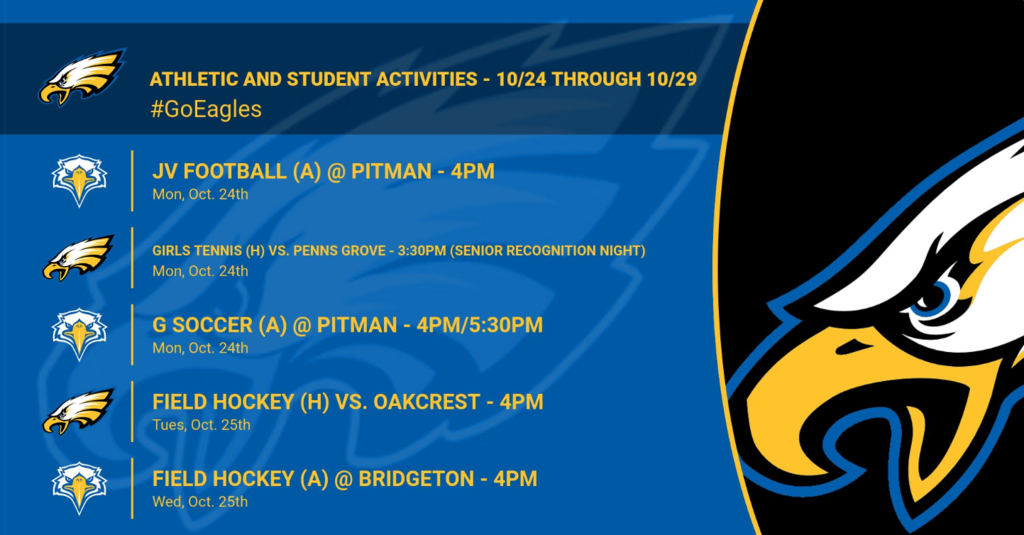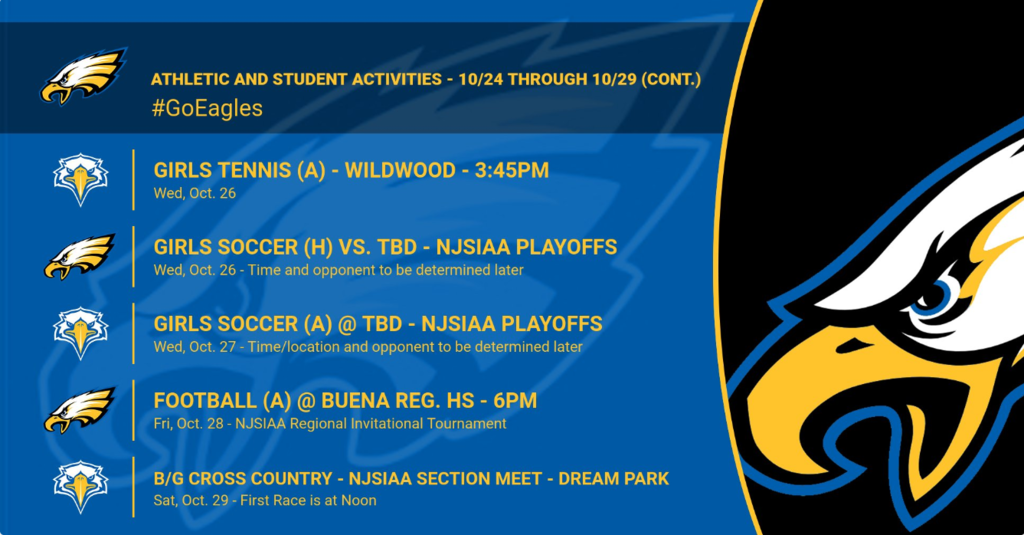 The PMHS Renaissance Club would like to congratulate the following students for winning the schoolwide poetry contest during the Week of Violence Awareness. 3rd place: Mikayla Shepherd 2nd place: Jonathan Zuniga 1st place: Mara Fredo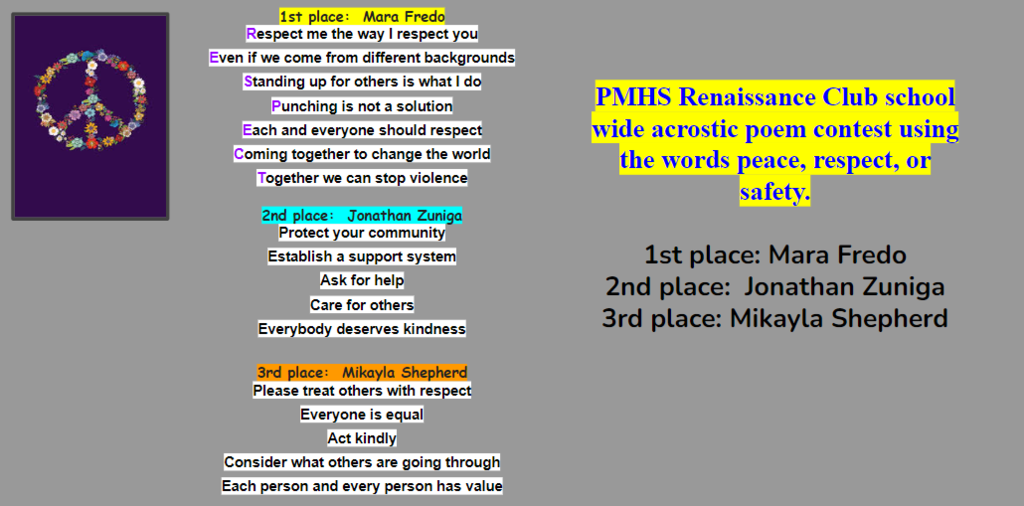 The PMHS Renaissance Club is collecting donations for the Pennsville Visiting Nurses during the month of the November! Any donation items can be sent to the main office. Thank you for all help and support! Click the link for the list of items in need:
https://bit.ly/3SmwmmR