ALERT: The stadium complex at PMHS will be closed starting June 30th through July 4th. The John Maniglia Track is going through a restriping project which is beginning today. All gates will be locked starting today. The facility will reopen on Tuesday, July 5th. Thank you.

Only 3 more days to register!!
https://forms.gle/wT42h16MA9n4sdPWA
Don't miss out - we have 56 campers registered so far. Basketball, Field Hockey, Cross Country/Track, Soccer, Softball, and Football. Pick from 3 different time sessions. #GoEagles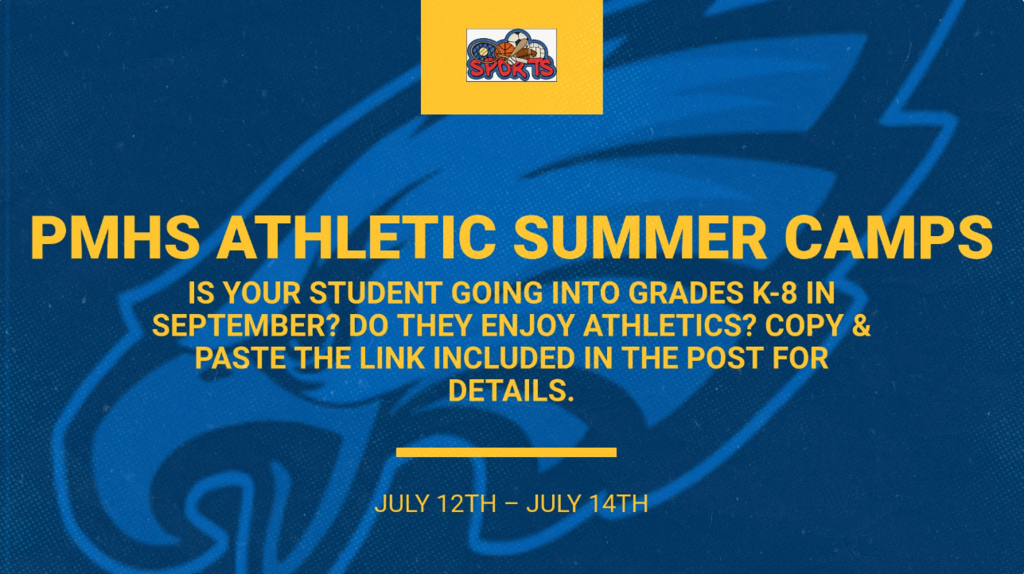 Just 10 MORE DAYS to sign up - PMHS coaches & student/athletes will be hosting Youth Summer Athletic Camps in July!! Check out the information in the attached photo and click on the link below for registration and payment information. #GoEagles
https://forms.gle/nTR1XVrQ3zoKiVHa8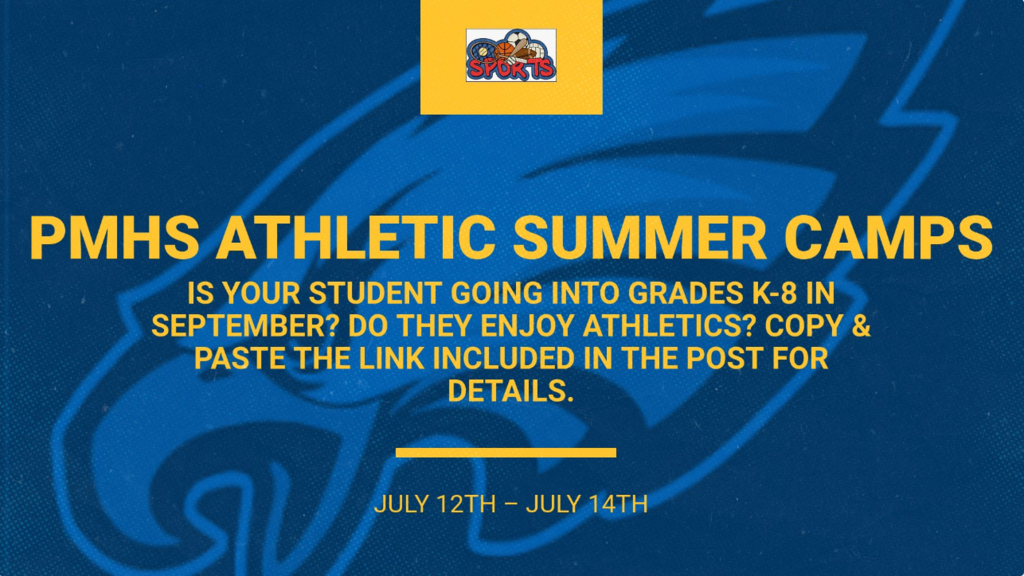 Registration for 2022-2023 Sports and Marching Band is now open. Please complete the online registration form and submit a completed physical prior to Aug. 1st to be guaranteed clearance for the first official day of practice.
https://pennsvillememorial-ar.rschooltoday.com/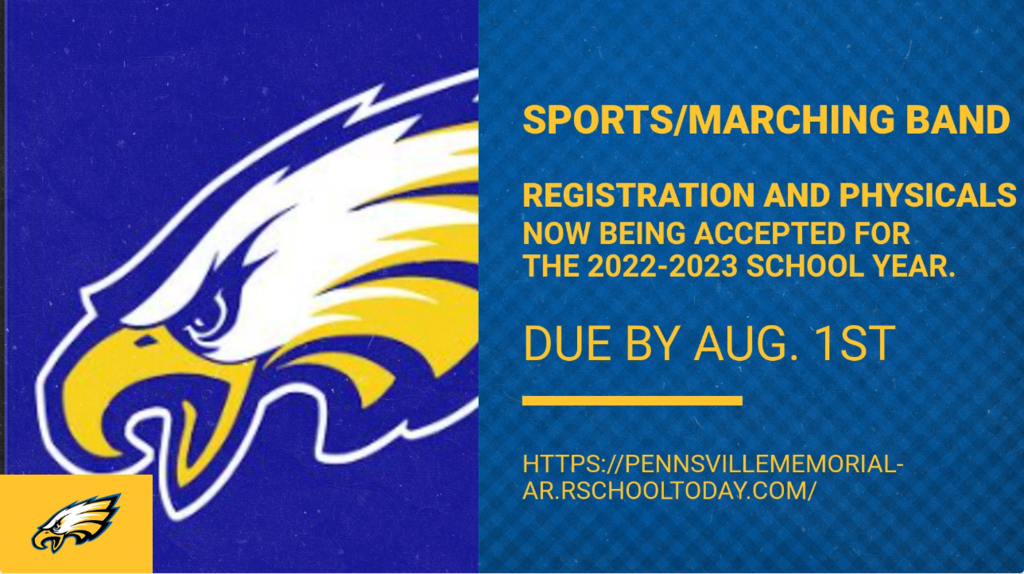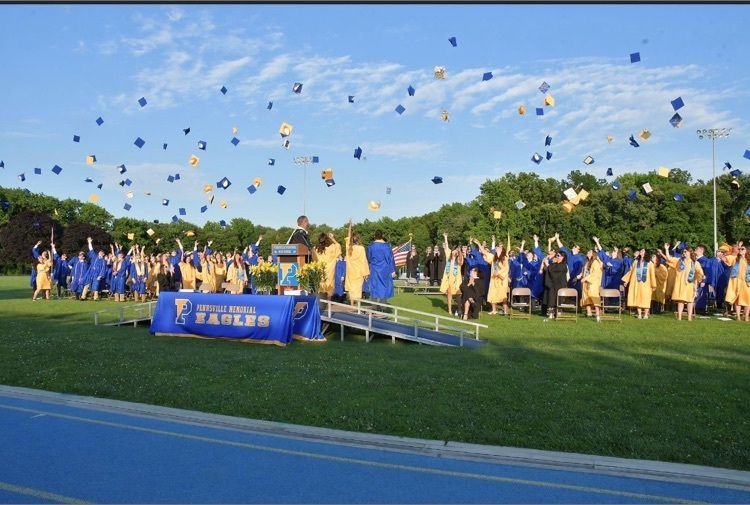 Tonight's Class of 2022 Graduation Ceremony will be streamed live on the Pennsville Memorial High School Facebook page. Ceremony starts at 6pm. #TraditionNeverGraduates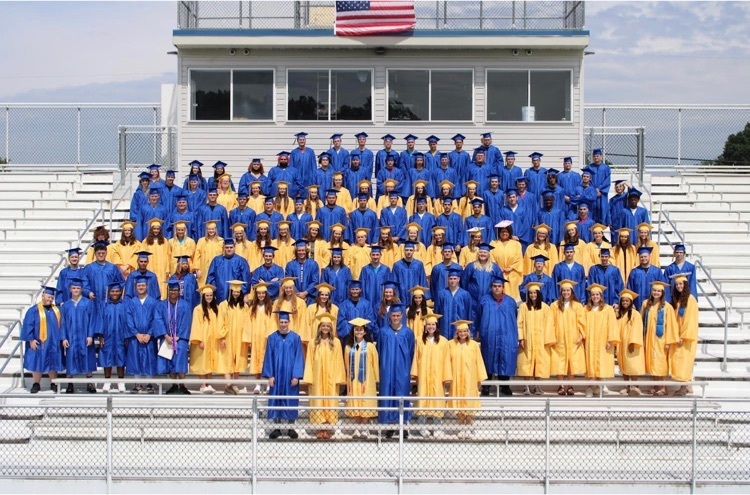 Congratulations to the 2021 PMHS Renaissance Student of the Year-12th grader-Nia Newton! Nominations for Nia Newton included the following kind words: Nia is respectful to everyone. I have never not seen Nia be respectful. She listens carefully to the instructions that she might be given by a staff member to perform an assignment or task. She can then relay that information to her peer(s) in a respectful way and then lead by example to complete the work at hand. She is not boastful or demanding which creates a great team morale and helps to raise the level of respect for herself and all of her team members. Nia is just an all around great person. She is an outgoing, kind, respectful and refreshingly humble person. She leads by example and all with a smile on her face. Nia truly reflects the characteristics of a Renaissance Student. She strives to always do well academically, treats all with respect and is an inspiration to her fellow students. I am honored to nominate Nia for this Year's Eagle Student of the Year!!! Nia is a model student. She is well rounded, being both a stellar student and being involved in multiple clubs/activities in the school. She has contributed immensely to the positive culture of our school.

Congratulations to the 2021 PMHS Renaissance Teacher of the Year-Mrs. Sarah Chapkowski!!!! Thank you for all that you do! Nominations for Mrs. Chapkowski included the following kind words: Sarah shares her kindness and smile with all the staff and students. She has tons of school spirit and shows it by supporting spirit days. She is always available to help others with their troubles and is great at coming up with solutions. Sarah cares about her students and their success in her class. Sarah goes above and beyond to make sure all her students are able to learn by mixing up her activities to touch all learning styles. She is constantly trying new things to develop her teaching strategies. Sarah would give her students the shirt off her back. She has such a giving heart. Sarah is always available to help staff with documentation, paperwork, testing, etc. Sarah is always there to listen and be a calming force for her fellow colleagues. She always offers to help others and is always available to help her students.

As we come to the end of another successful season of athletics here at PMHS, it is time to recognize our 26 TCC Spring Sports All Stars from this past season. Congrats to all of them. Best of luck to our seniors!!! #GoEagles #TraditionNeverGraduates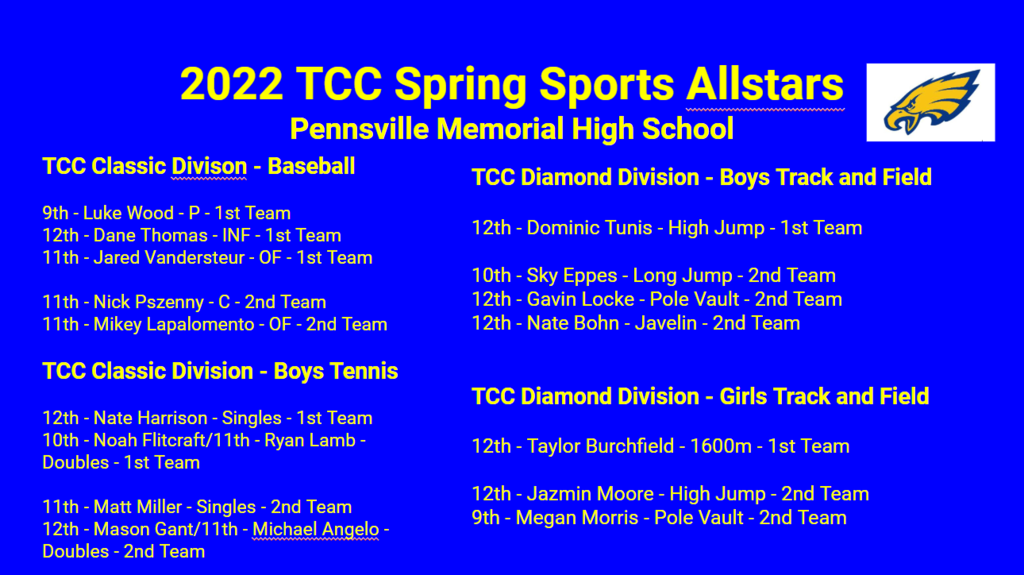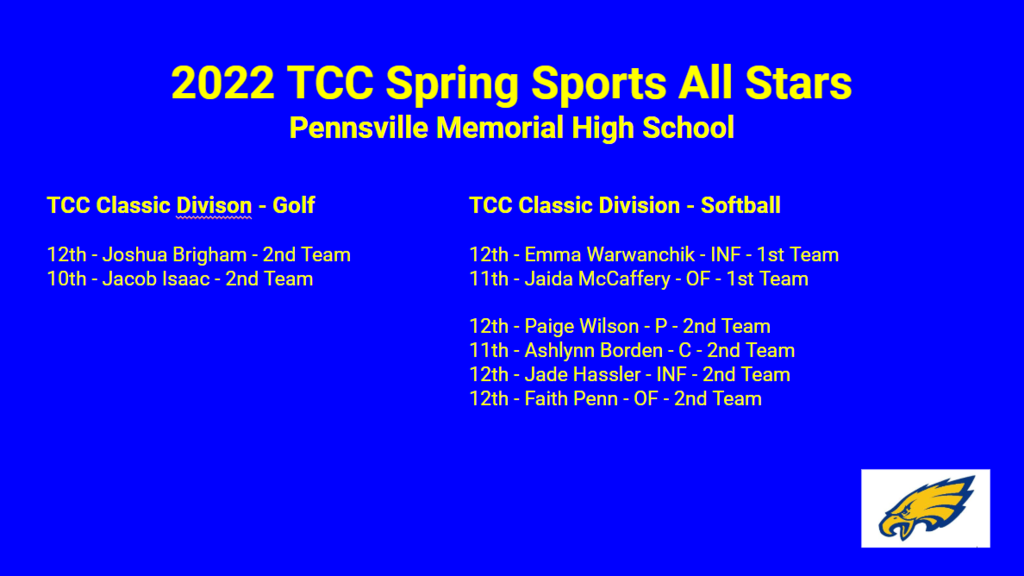 Congrats to Freshman Megan Morris - qualified for State Group 1 championships in Pole Vault as a Freshman!! Special shout-out to Senior Callie Wood for being there to support and coach her up today!! Looking forward to big things in the future Megan. #GoEagles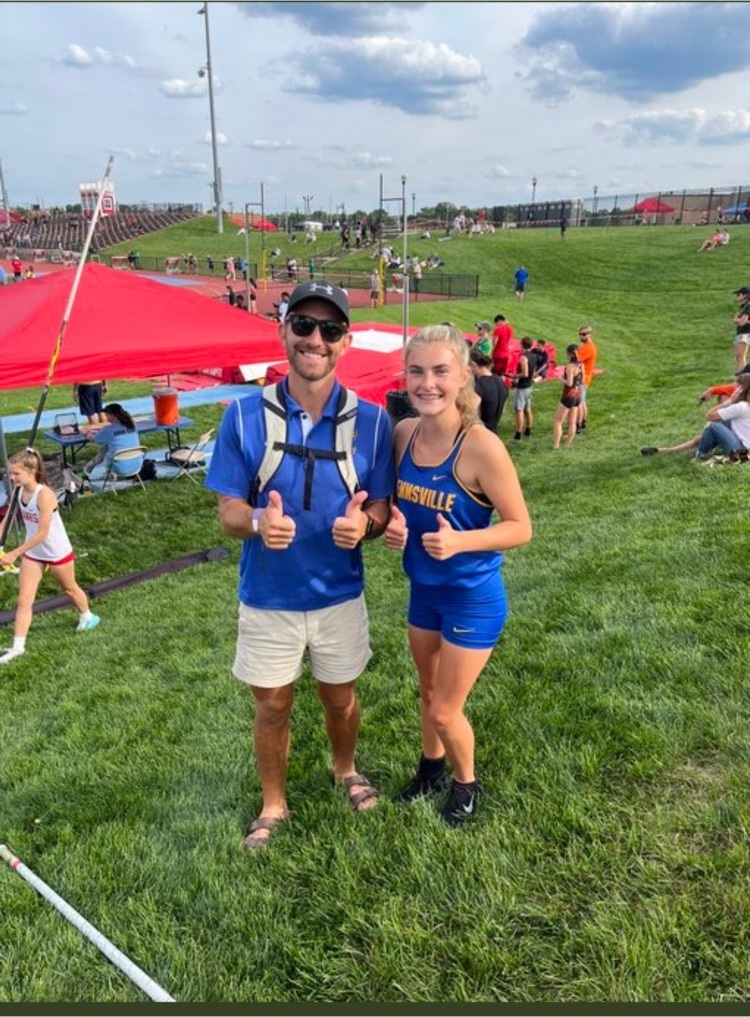 Way to go Dom!! Results from State GP1 Boys High Jump. #GoEagles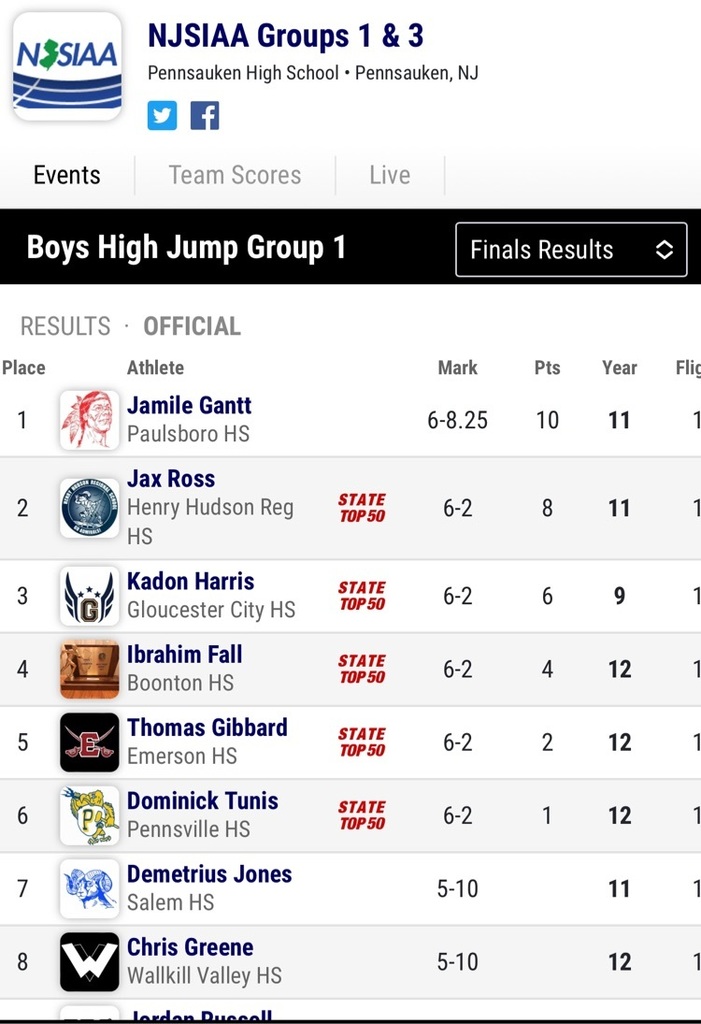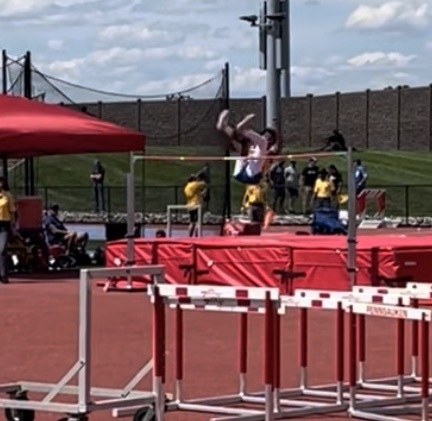 Way to go Taylor!! State championship meet results for the Group 1 Girls 800M. #GoEagles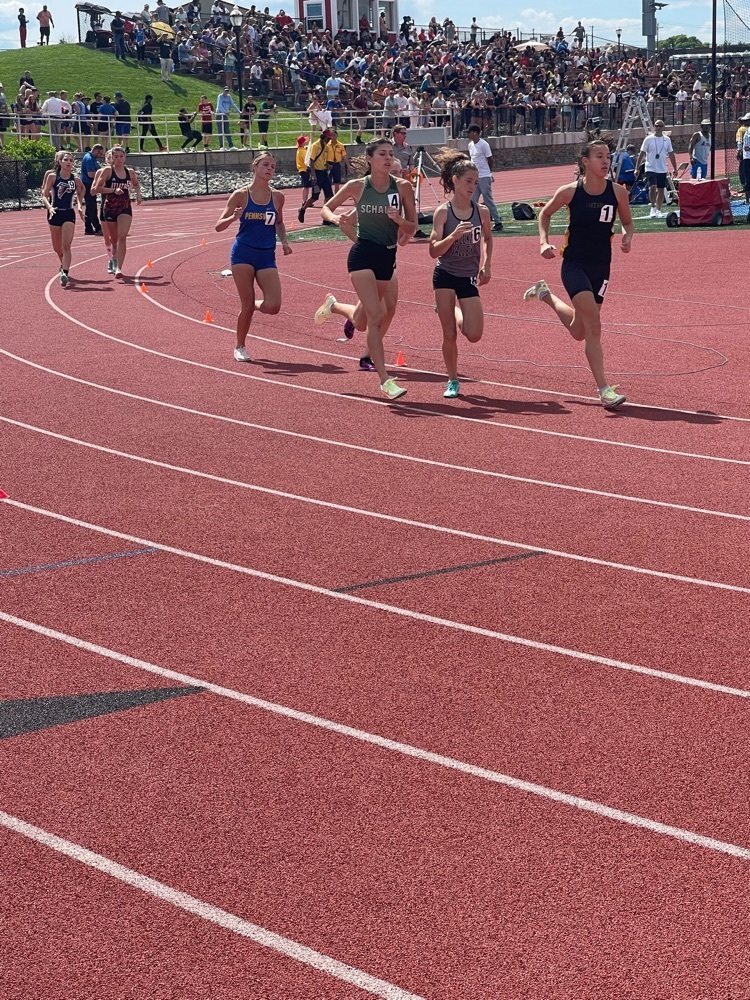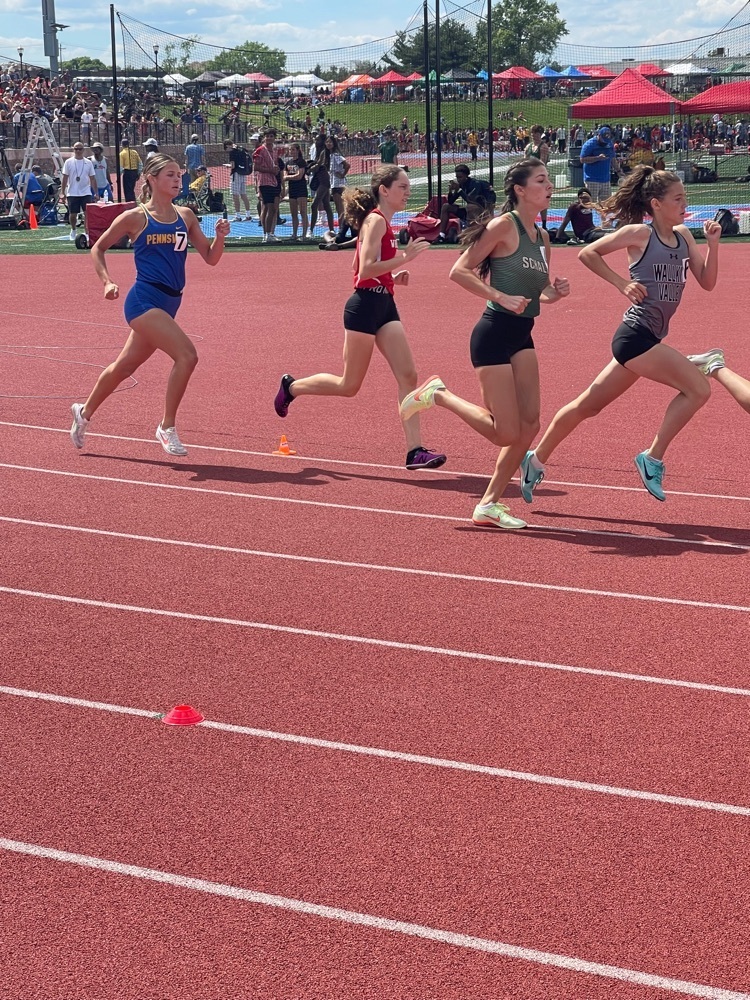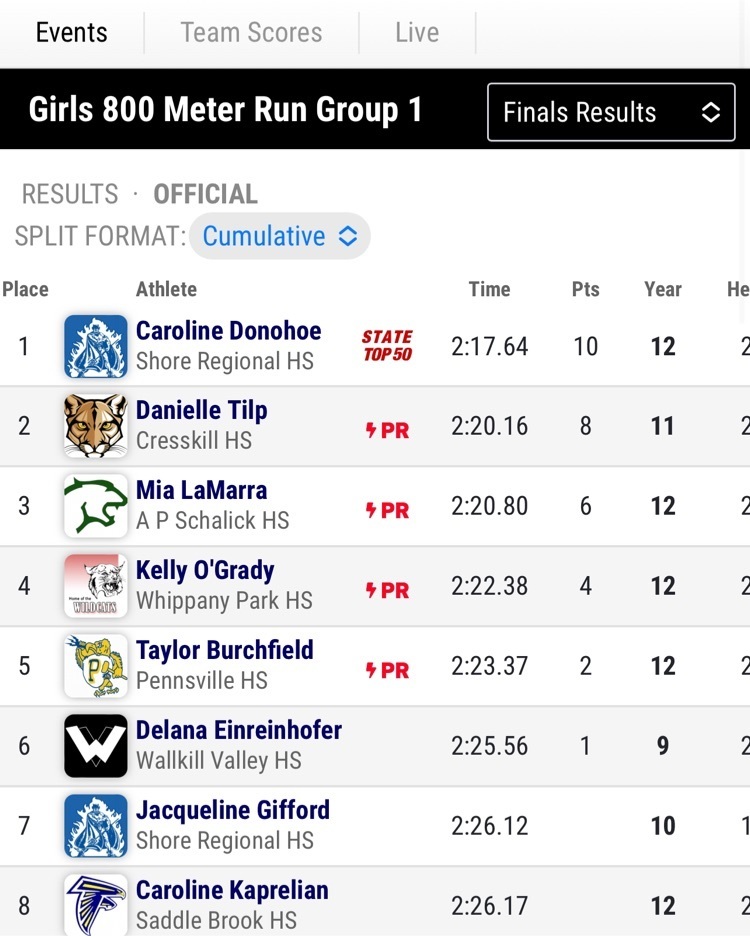 Congrats to the Class of 2022 PMHS Athletic Hall of Fame Inductees. The induction ceremony will take place on Thursday, September 29th at 7pm in the David Dilks Auditorium @ PMHS. Stop out and hear about the many great accomplishments of the 4th HOF class. #GoEagles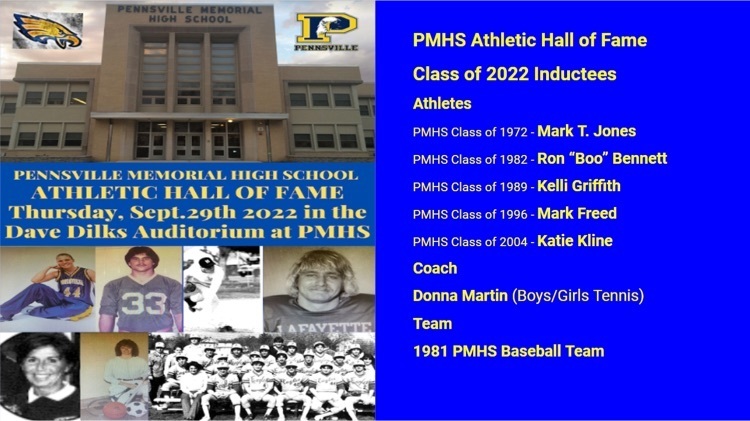 Congrats to all our Senior Award and Win or Lose Scholarship winners this evening. Thanks to the generosity of so many local organizations we provided $46,950 in continuing education funds this evening 👀!! #GoEagles

Congrats to our PEPAA Scholar-Athletes of the Month for May - Lindsay Halter and Jeremy Wilson, along with our June Scholar-Athletes - Callie Poeta and Kai Emholtz. Our 2021-2022 PEPAA Scholar-Athletes of the Year will be announced this event at our annual Win or Lose Event.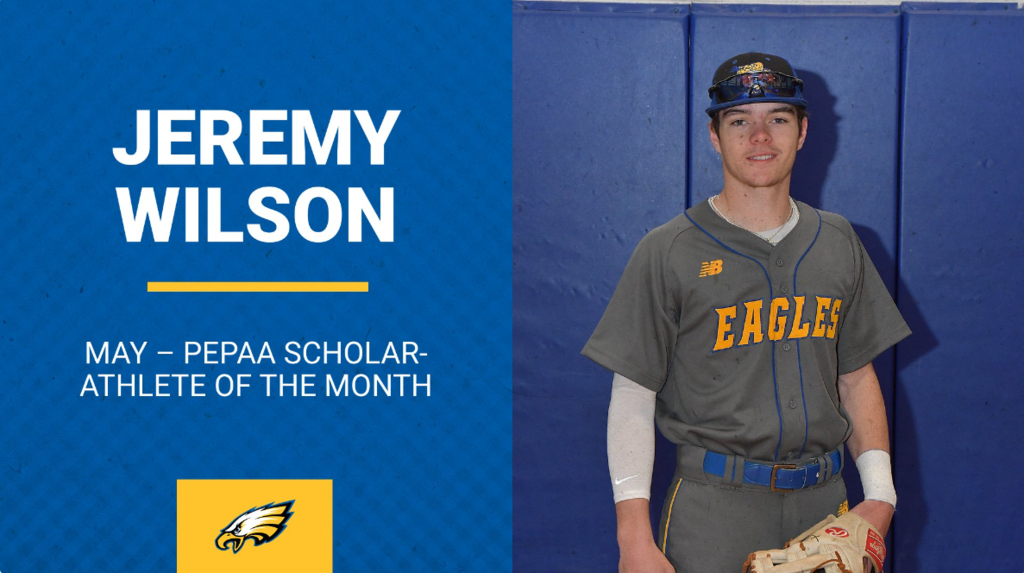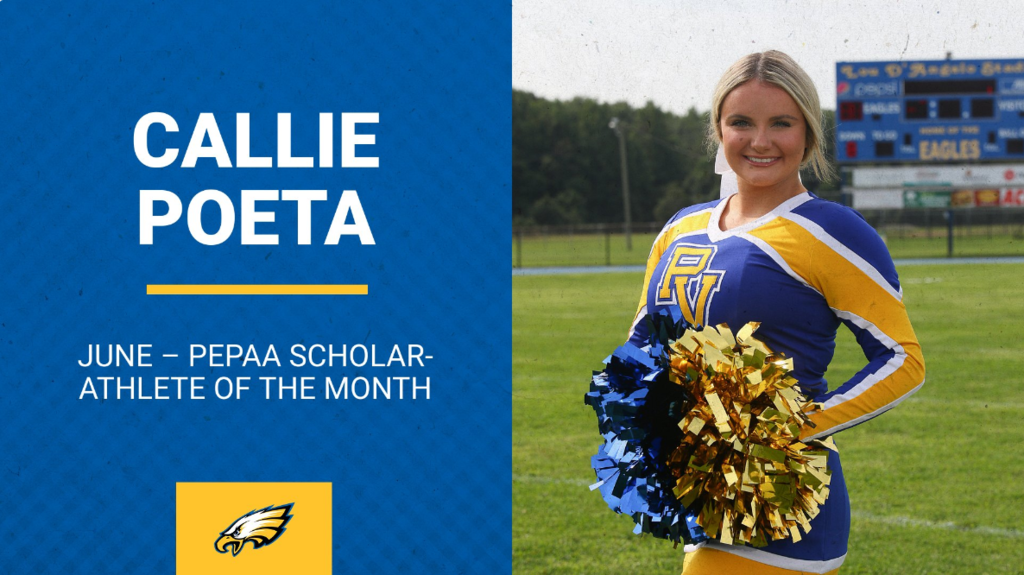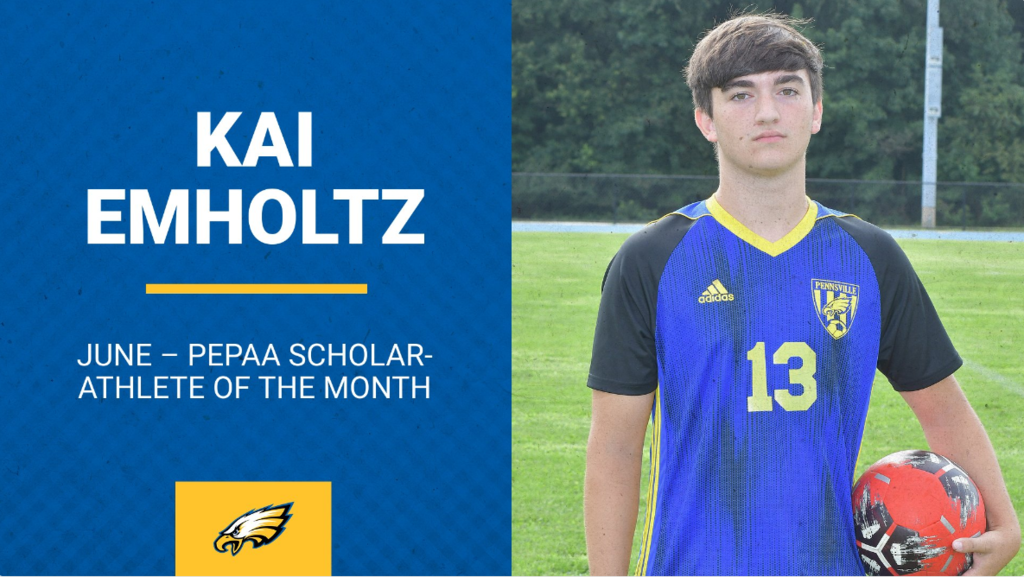 Congratulations Students of the Month, Nathan & Cole.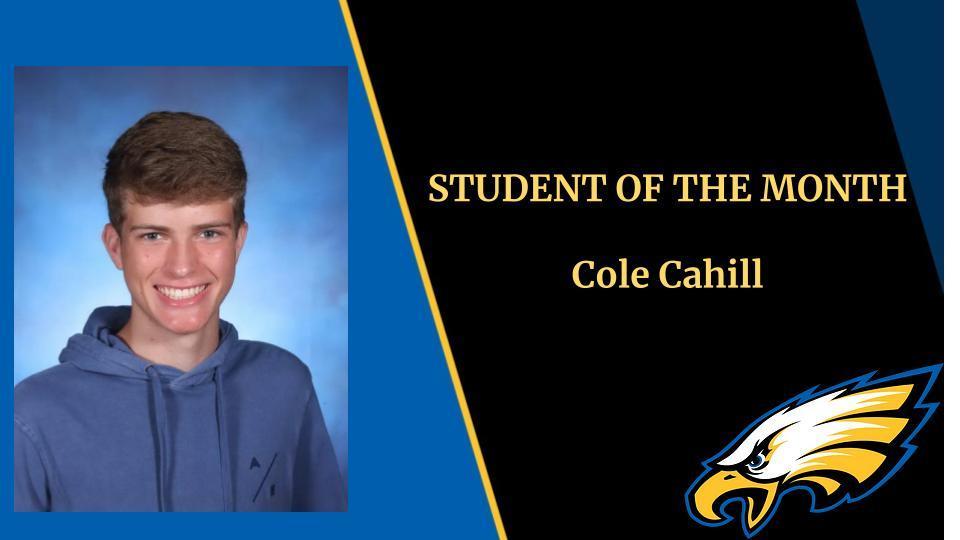 Congrats to our Class of 2022 Penns Grove Regional Exchange Club Scholar-Athletes of the Year - Callie Wood and Cole Cahill. Thank you to the Exchange Club for continuing to recognize our student-athletes. #GoEagles

The 2022 Senior Awards & Win or Lose Event will be hosted this Thursday, June 9th @ 6pm in the HS Auditorium. Award recipients have been notified in writing from the guidance office that they are receiving an award. #ClassOf2022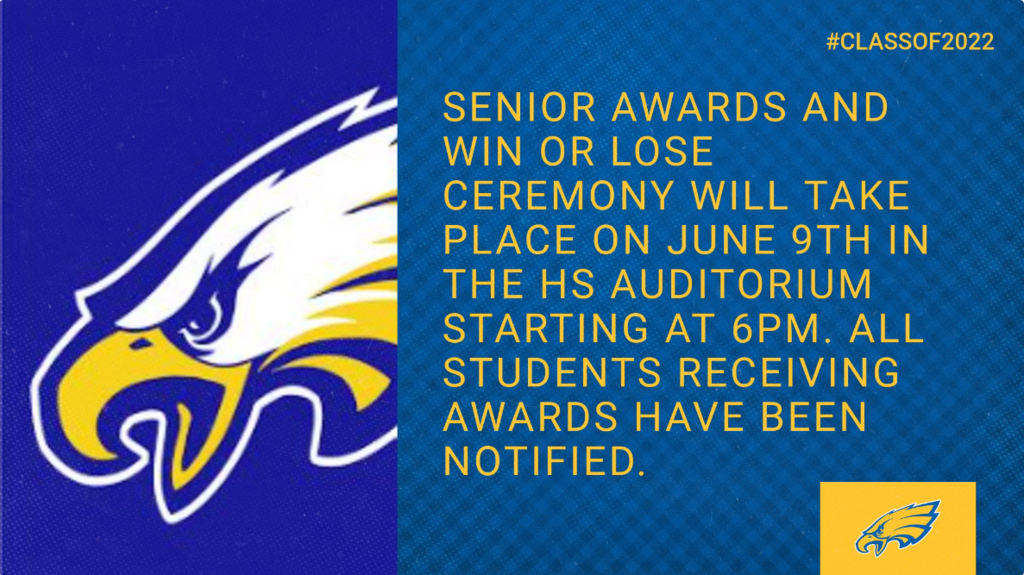 PMHS coaches and student/athletes will be hosting Youth Summer Athletic Camps in July!! Check out the information in the attached photo and click on the link below for registration and payment information. #GoEagles
https://forms.gle/nTR1XVrQ3zoKiVHa8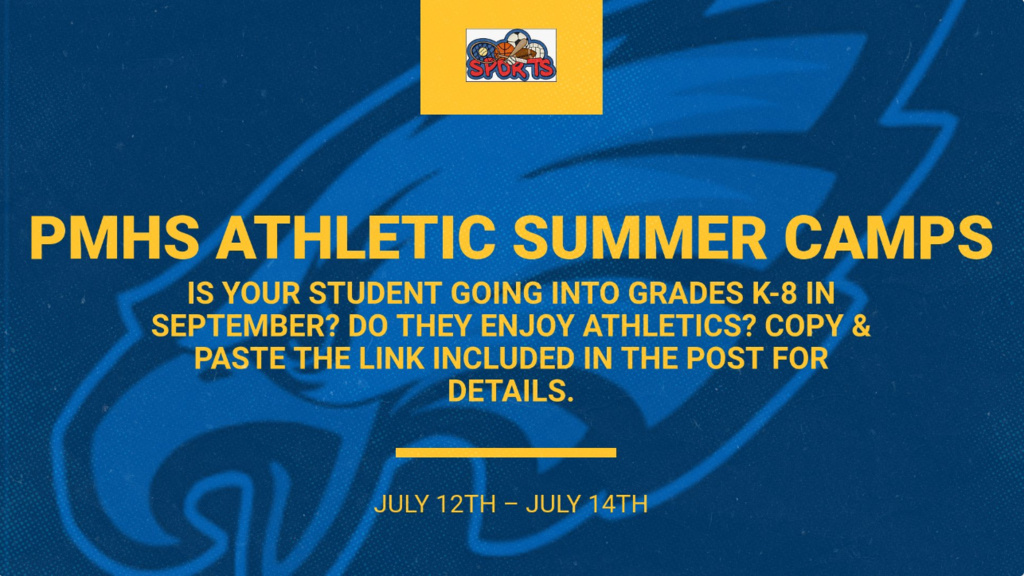 Good Luck @PMHS_TnF_XC at this weekend's SJ Group 1 Sectional Meet. #GoEagles