Congratulations to our April, May, & June Students of the Month. Have a great summer Pennsville Middle School!!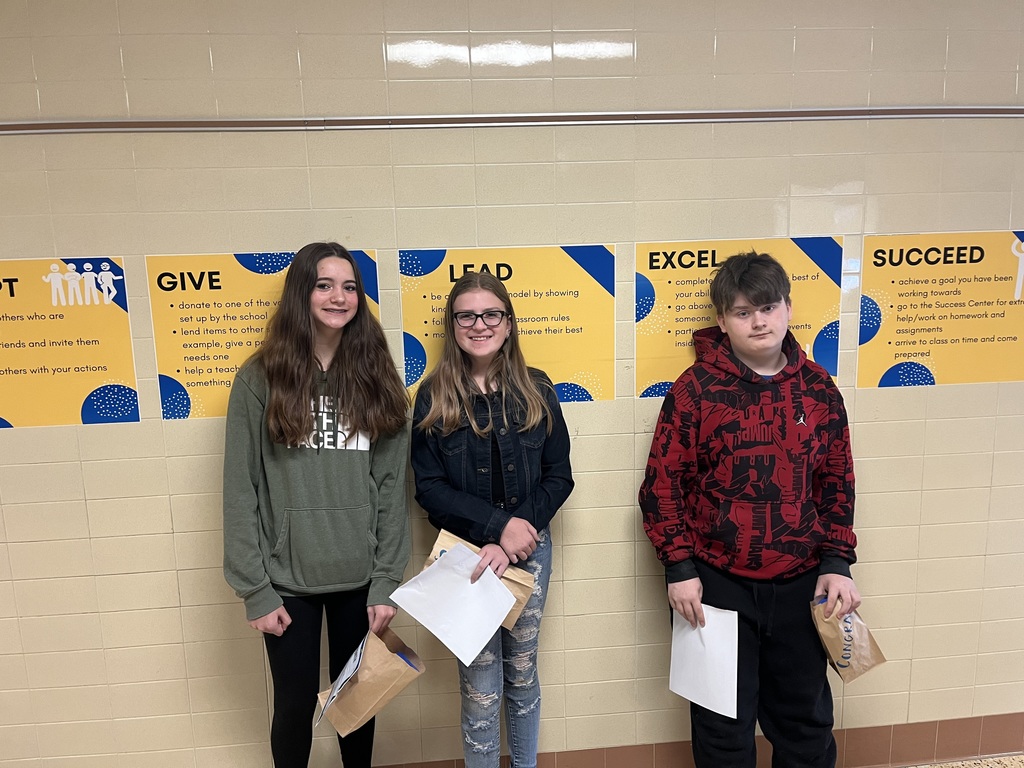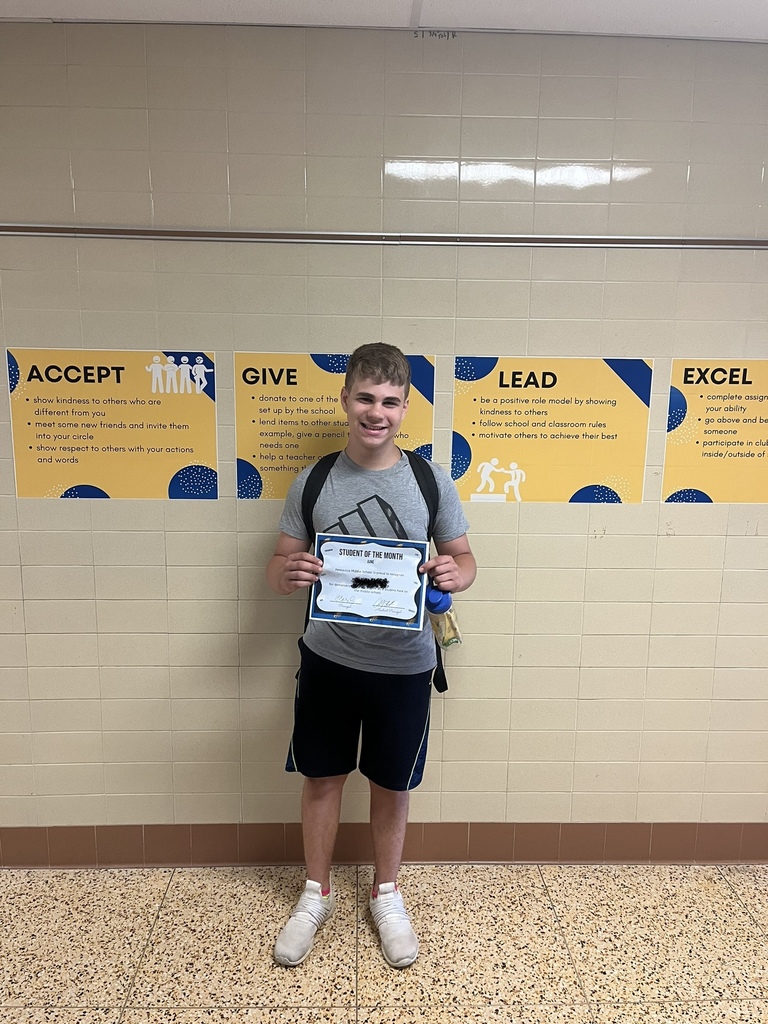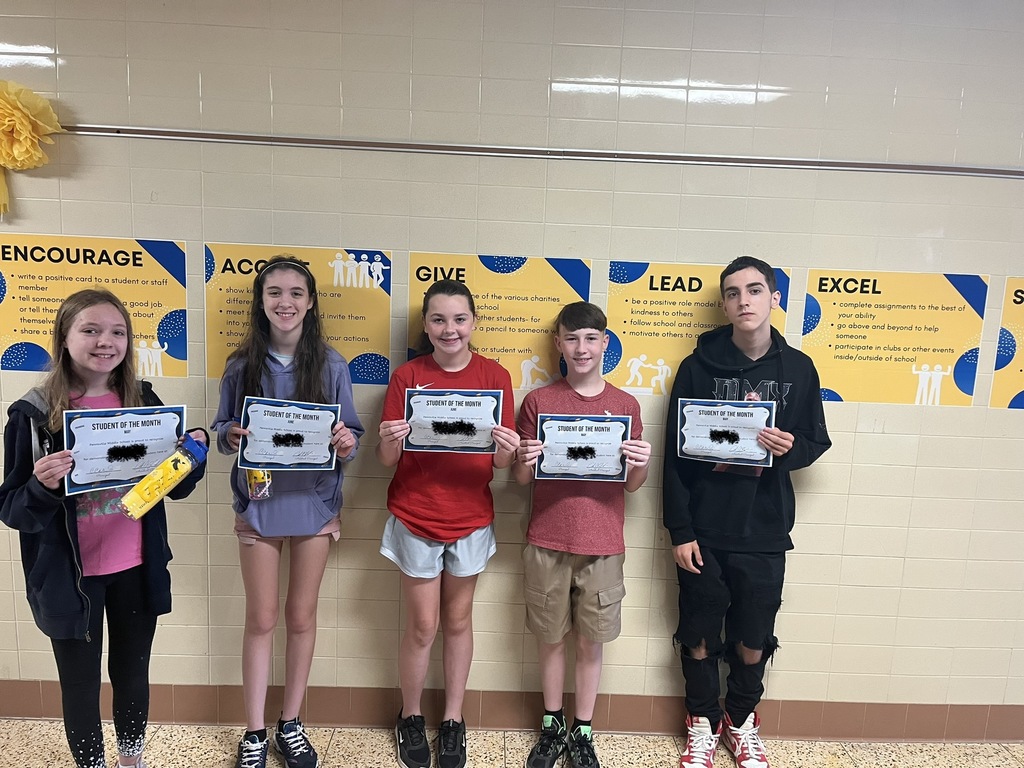 On Monday we held the 8th Grade Promotion Ceremony at Lou D'Angelo Stadium and what an awesome turnout we had!! Thank you to all that came out to celebrate our resilient 8th grade class as we send them off to High School. After the ceremony, we held our 8th grade dance in the cafeteria. The 8th Grade Class Advisors Mrs. Alexander and Ms. Niblock did an incredible job decorating and organizing the dance! We had a great day celebrating our 8th graders and wish them the best of luck with their next step!

Last Friday, with absolutely perfect weather, we held our Field Day for students! The students had an amazing time with the many activities outdoors and indoors! Huge shout out and thank you to our class advisors for organizing, scheduling, and running the event!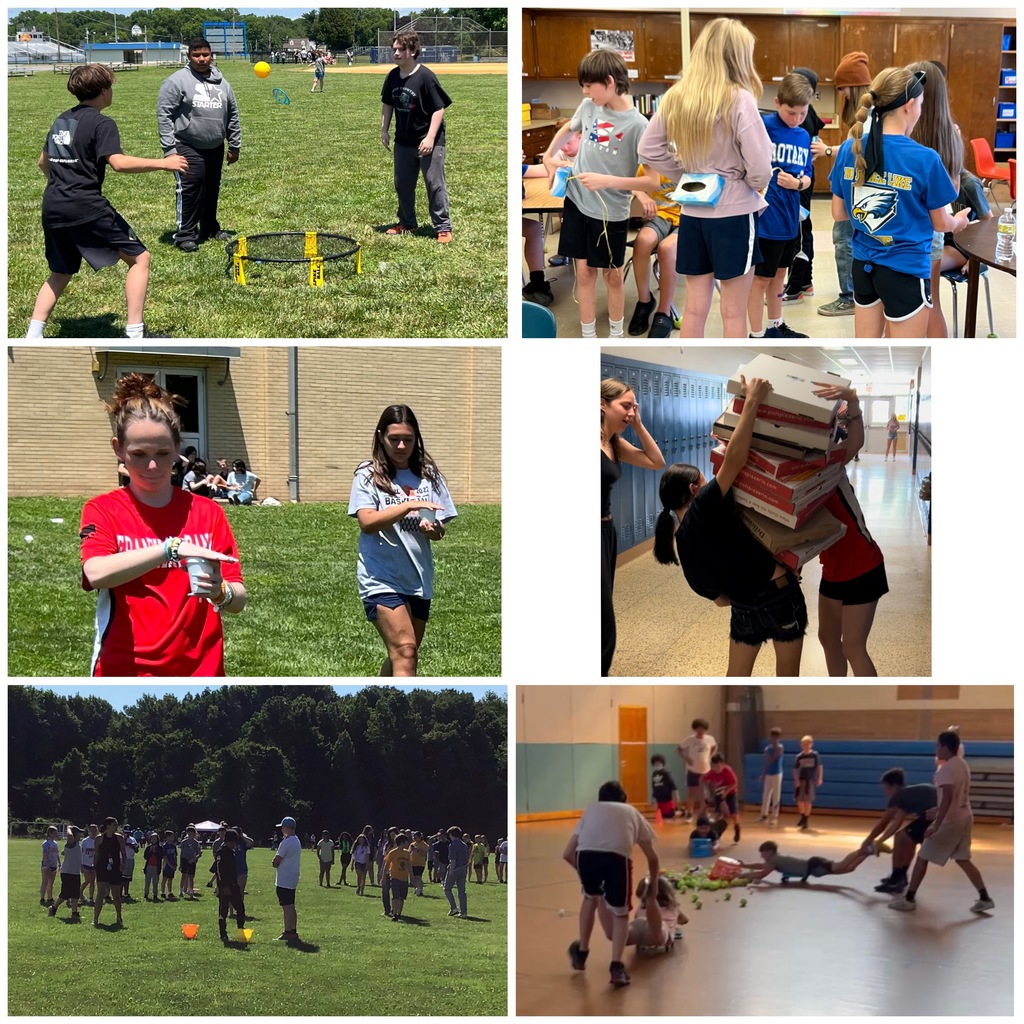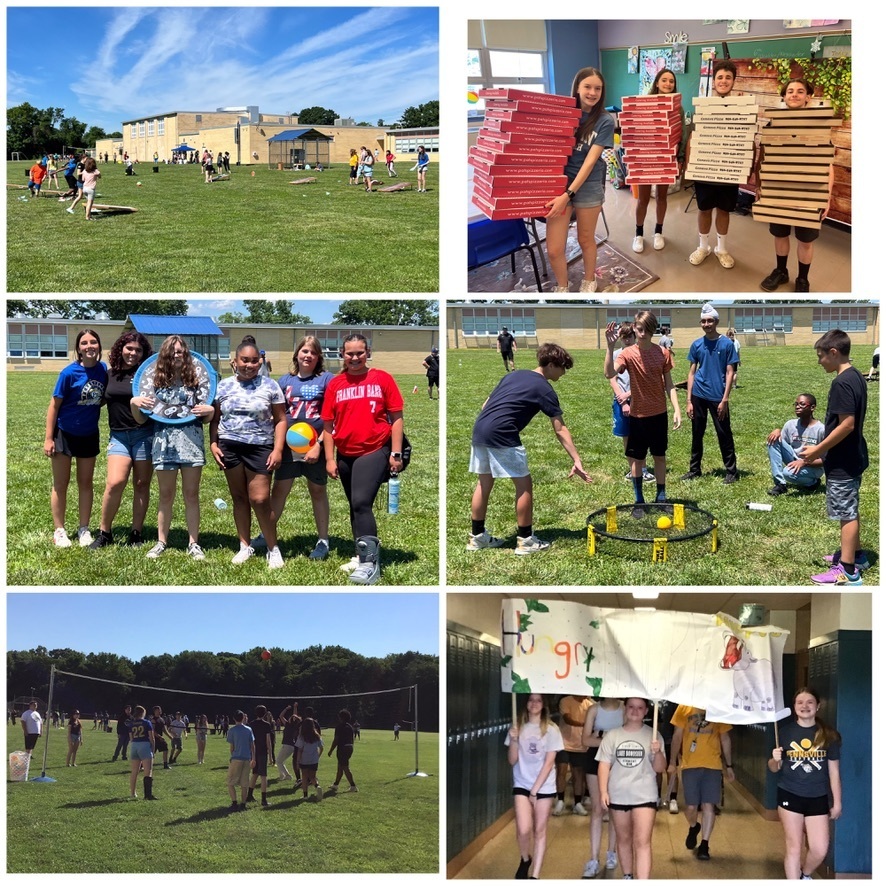 There has been a lot going on here in June - we are playing catch up now. On June 2nd, we had the 5th graders (now our 6th graders!!) here for an introduction to our great music programs. The band, orchestra, and choir performed for the students and the 5th graders got to see a little bit of the Middle School! Looking forward to having our incoming 6th graders and hoping many of them will take advantage of our awesome music program!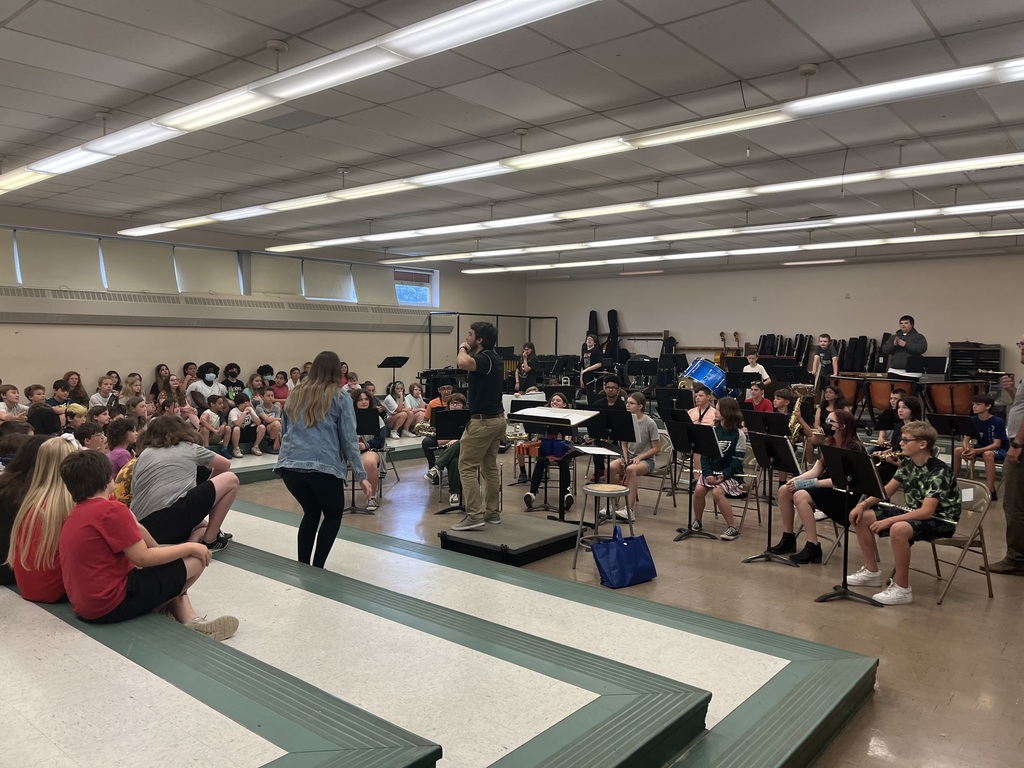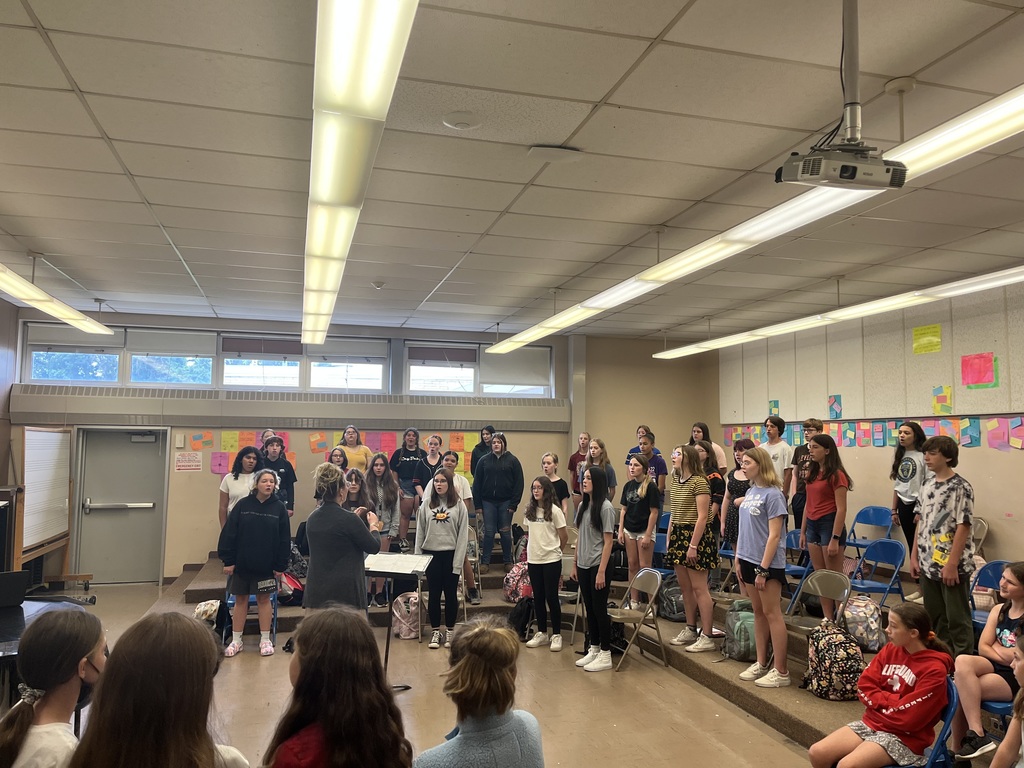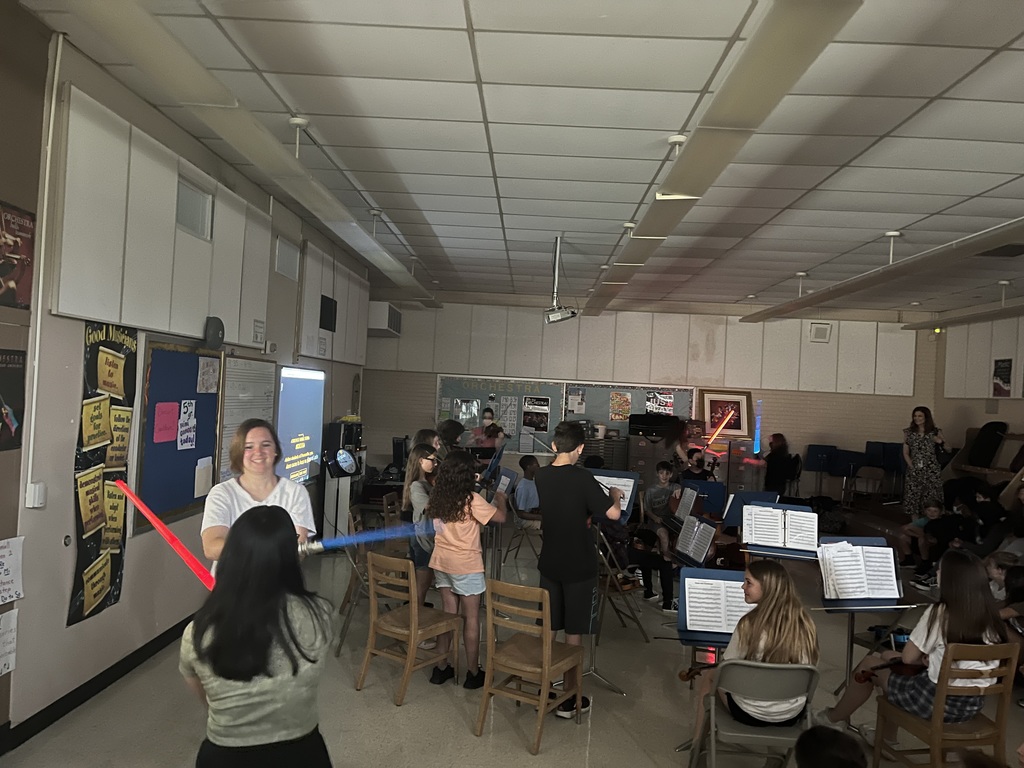 Field Day has been postponed for tomorrow and rescheduled to Friday due to the anticipated weather forecast. Therefore, tomorrow is a normal instructional day at the Middle School. Students are to bring their Chromebooks to school on Thursday - but not on Friday for Field Day

Field Day is scheduled for this Thursday June 9th! Hats and sunglasses are permitted for outside and students are encouraged to wear sunscreen. This is a non-instructional day, so students should not bring their Chromebooks to school on Field Day. All fines must be paid by tomorrow (June 8th) in order to be able to participate in Field Day. Currently, the weather forecast is not looking too great for Thursday, so our rain date for Field Day would be Friday. We will make the decision tomorrow based upon the forecast. Thanks and we can't wait for our students to have a blast at Field Day !

Good morning, Students - Parents - Teachers - Staff T-shirts for sale Friday after school in the cafeteria!! Please bring exactly $12 cash per shirt. Sizes and quantities are limited--first come, first served! We can't wait to see you rocking your PVMS shirts!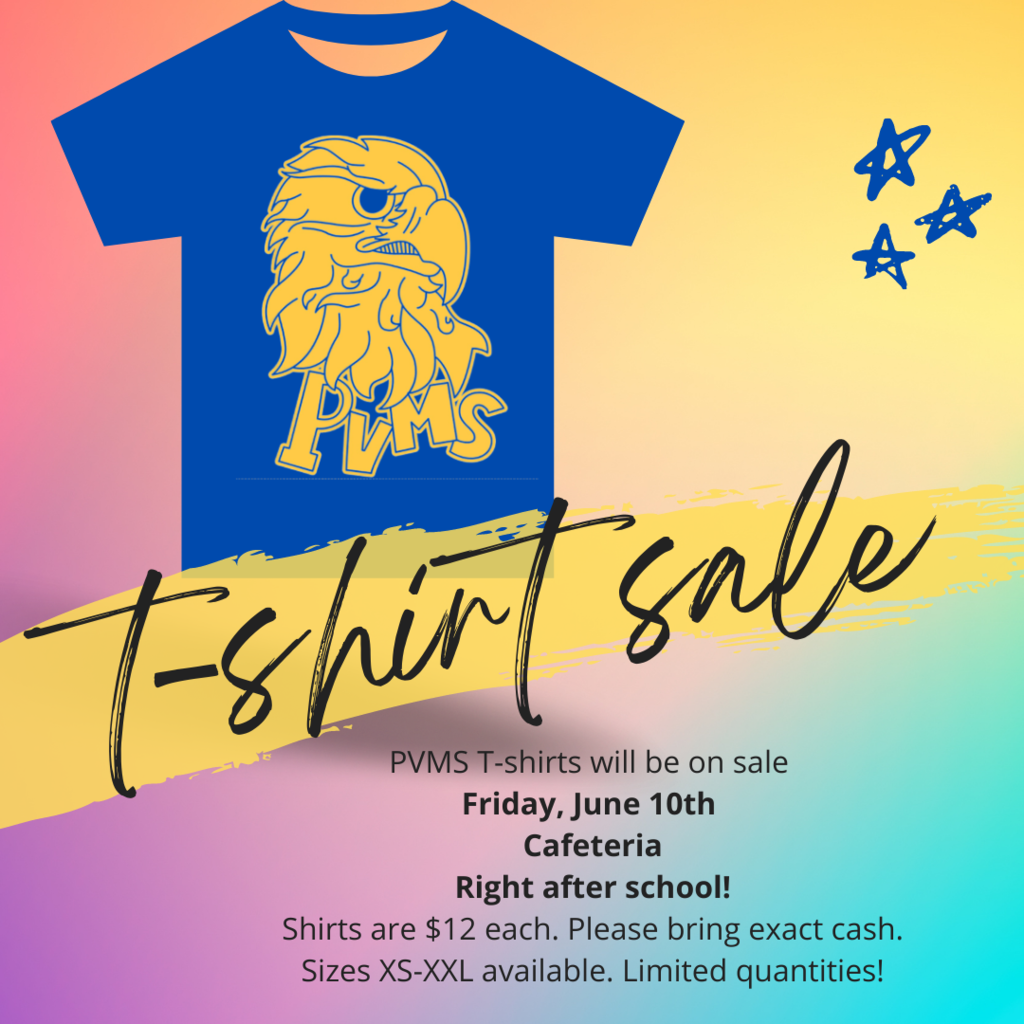 The students have spoken and this month's Meet in the Middle was with PVMS Math Teacher Mrs. Meghan Martin! Check out our talk at the link below.
https://www.psdnet.org/o/pms/article/754741
Have an amazing Memorial Day Weekend and remember the reason for this holiday weekend - please remember the soldiers that have paid the ultimate sacrifice for our way of life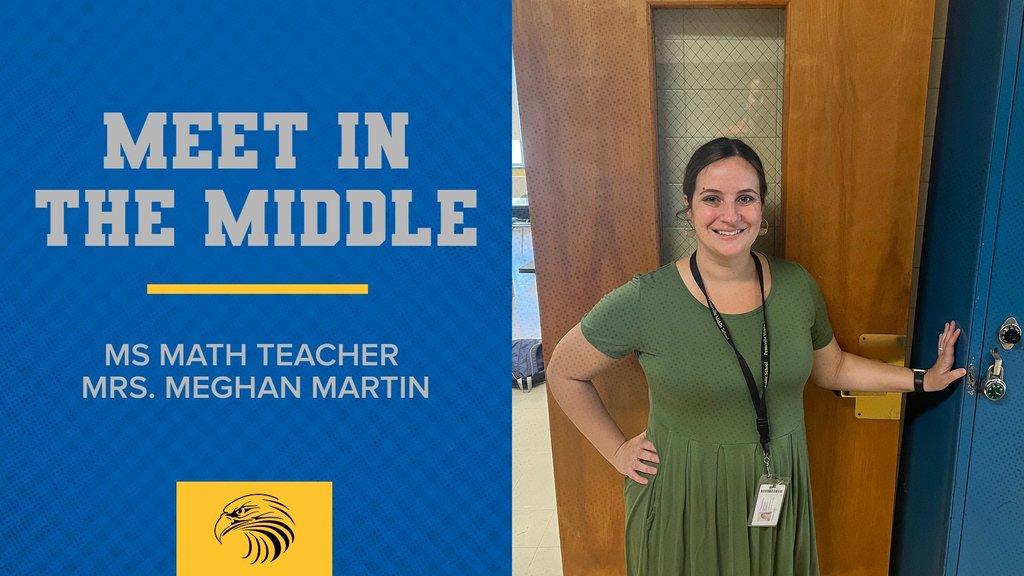 Congratulations to all of our #mathlete participants in the Math Showcase @ Salem Community College yesterday!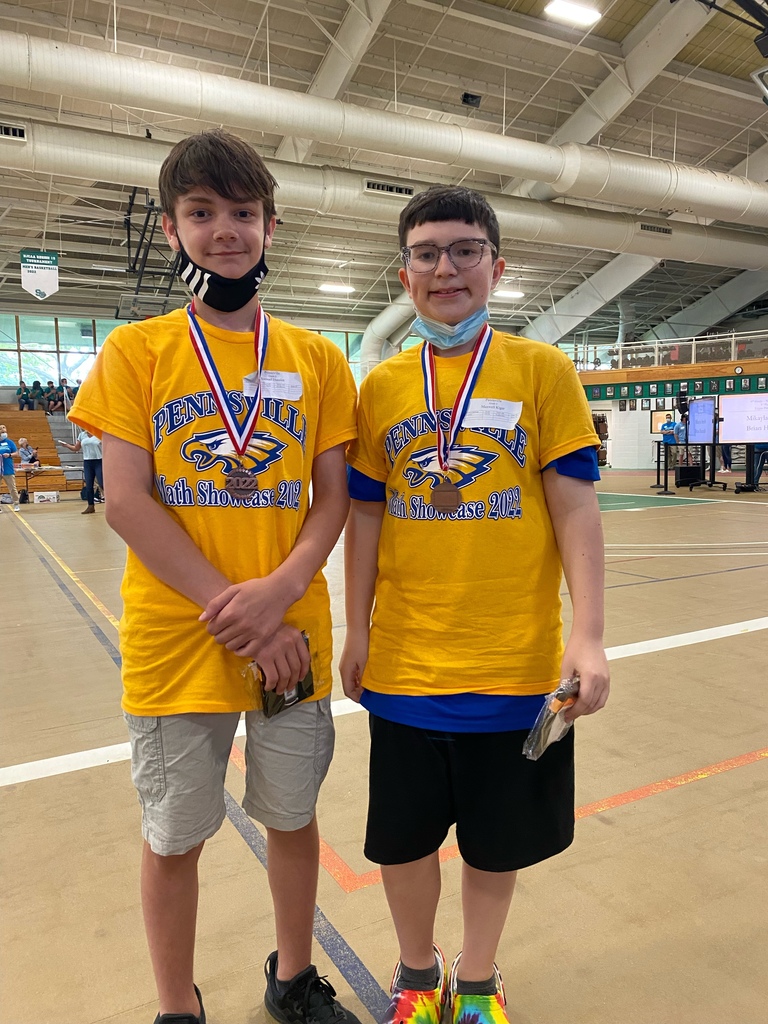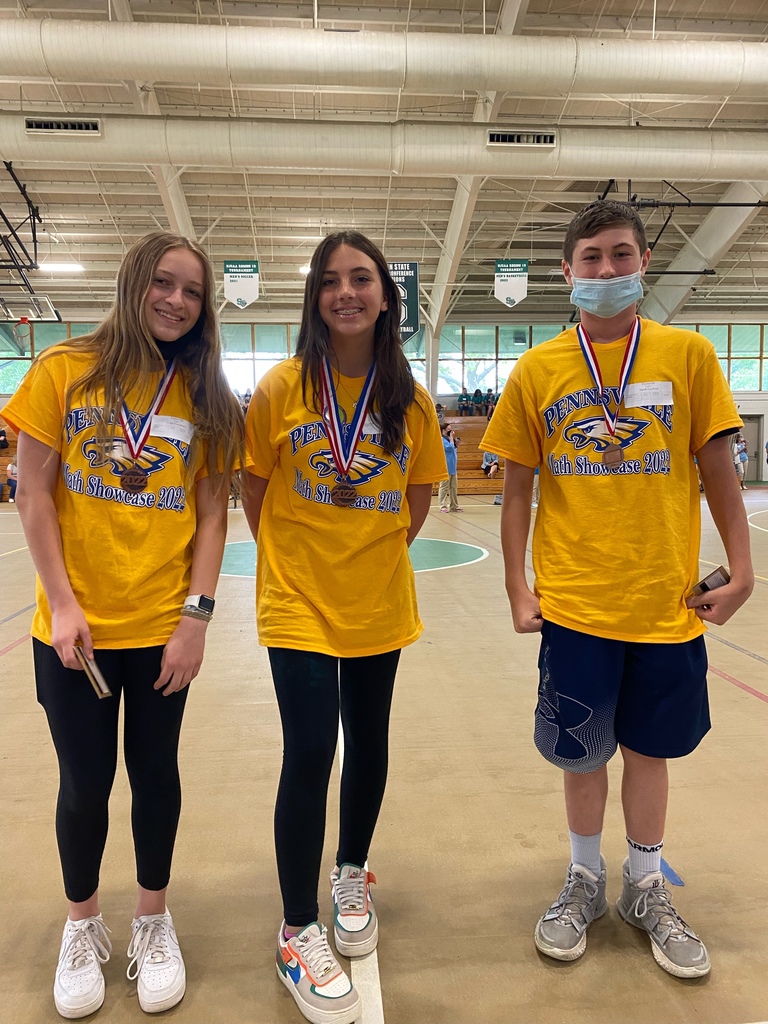 8th Grade T-Shirt order forms and money are due by this Friday May 20th!! Please turn in money and forms to Mrs. Alexander or Ms. Niblock. Order forms are in the cafe and no late orders will be accepted !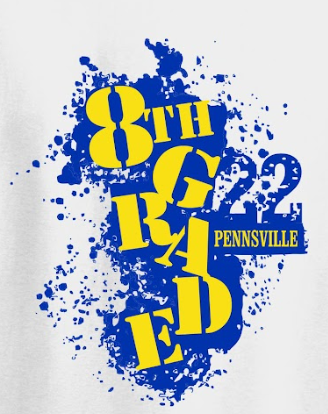 Due to the weather forecast, we are cancelling Student Success Center for this afternoon. Also, students that were scheduled to have detention today after school, they have been rescheduled for this Wednesday 5/18 at the Middle School. Stay safe this afternoon !

Students - last day to order online for the EAGLES Nest store is Tuesday 5/31!! Keep collecting those Talon Cards !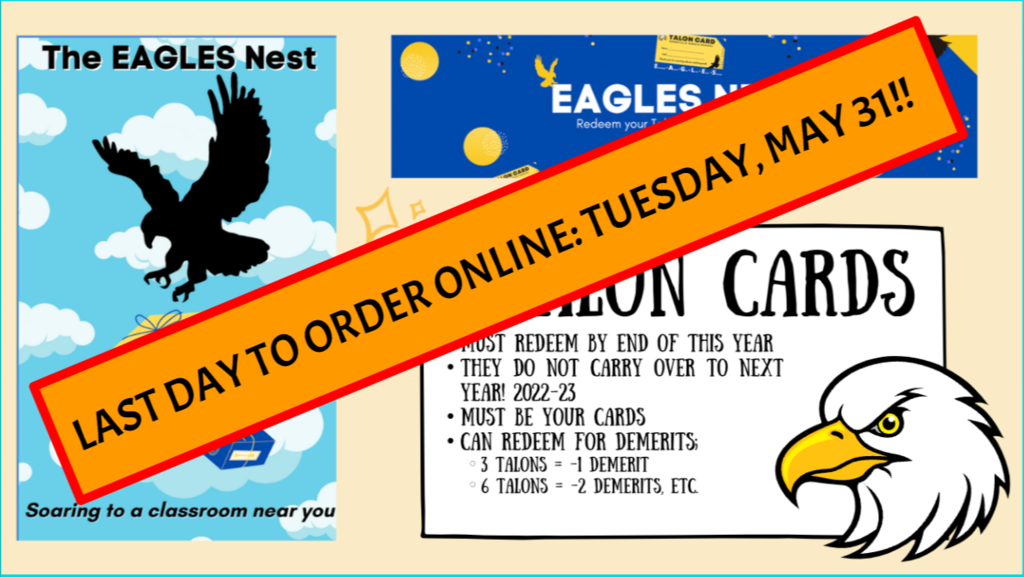 Students --- as the weather gets warmer, attached are reminders about the dress code from when Mrs. Carels and I spoke to your classes last week. Thanks for your cooperation in advance. Almost done State testing -- keep giving your best !

We have a few more concerts coming up - students if you are planning to come out and support our amazing music programs, please remember that you must be accompanied by an adult during the entire performance to attend! Thank you in advance for your cooperation Upcoming concerts are: Choir - Tuesday 5/17 @ HS Auditorium - 7PM Band - Tuesday 5/24 @ HS Auditorium - 7PM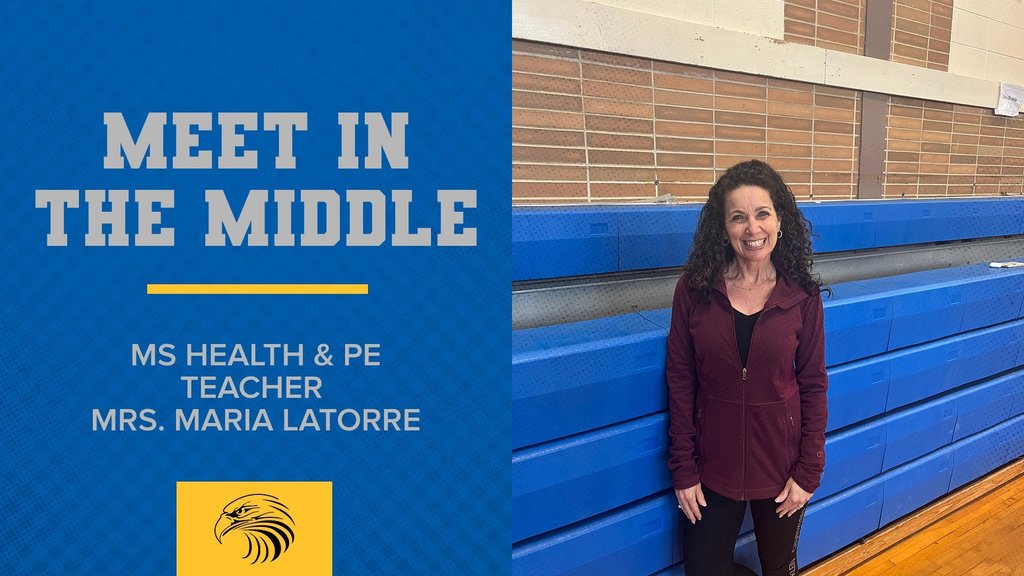 A big Happy Administrative Professionals day to Mrs. Doukali and Mrs. Sauer! We are so grateful and appreciative of all you do for our students and staff!

Take some time out of your day to check out how talented & creative our students are at PVMS. Our Art Teachers Mrs. McHenry and Ms. Elliott sure bring out the best of our students ! Check out Mrs. McHenry's art Instagram page @ ms.mchenrys_art_class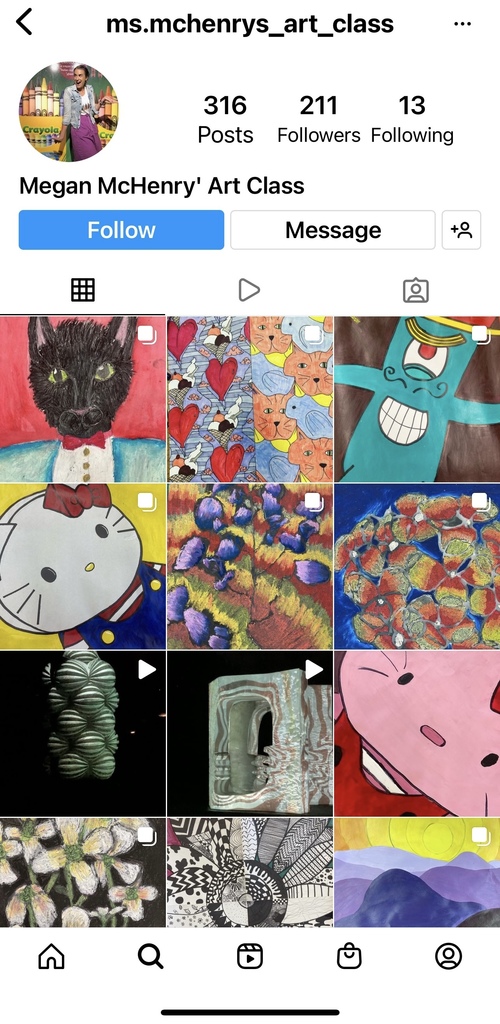 The Student Success Center has been a welcome addition for academic enrichment opportunities throughout the school year for our students. We couldn't be happier with the turnout and with the number of students taking advantage for extra academic help. However, we have noticed that students that are struggling academically are showing up for the Success Center, but not to the classes or subjects that they need help in. Therefore, beginning tomorrow (Wednesday 4/20) students that are failing any classes for the year OR for the marking period will not be permitted in the library during the Success Center. Students that are entering the library must show their current grades to Mrs. Henderson prior to entry. Students that are failing courses will be rerouted to those teachers that will be able to help them in their particular areas of need. If Mrs. Henderson is not available for the day, the library will be closed for Student Success Center as well. Thanks for all of your support with Student Success Center this year! **The last day for the Student Success Center is Wednesday 6/1

Attention 8th graders interested in Field Hockey next year 🏑 There will be a Field Hockey meeting with Coach Doran next Wednesday 4/20 in the HS Gym after school if you're interested in playing in the fall 🦅

Mom & Son Game Night Carnival sponsored by the PMHS Class of 2025. May 6, 6-9 pm. See flyer for details.